Cheese Wedding Gift Ideas
Finding a great, truly memorable wedding gift for a new couple is never easy. Every bride and groom will receive more home appliances, towels, and pots & pans than they'll ever need, and you don't want to look like you just bought the cheapest item on their registry. These people are important to you, so if you want to stand out from the crowd, consider buying the happy couple a subscription to The Gourmet Cheese of the Month Club™ and The Rare Cheese Club!
With a membership to our monthly cheese club, the newlyweds will receive three ½-pound, artisanal cheeses selected from the world's leading domestic and international cheesemakers. Every shipment offers something new and delicious, and you can make each month even better by combining their cheese club with our monthly wine, chocolate, beer, cigar, and flower clubs through our Design Your Own Club™ program!
Use our promo codes for your order to save up to $30.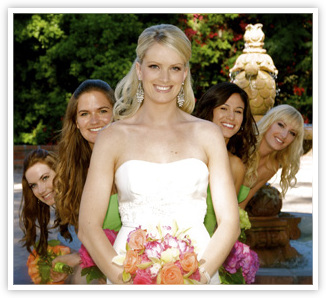 Cheese Gifts for Bridesmaids & Groomsmen
Your friends are honored to be a part of your big day, and they deserve to be thanked for their help and support. Show your groomsmen and bridesmaids just how much you care by buying them a gift membership to our monthly cheese club! Each month, your friends will receive a variety of artisanal cheeses that will remind them of just how much they mean to you. They might even share if you ask nicely.
Be sure to add a membership to our cheese of the month club to your wedding registry or bridal registry. Simply call us at 800-625-8238 and let us know that you want one, or even all, of our monthly club options added to your registry, and we'll take care of the rest.
Send anywhere from 2 to 12 shipments every month, every other month, quarterly or on specific months you choose.
Design Your Own Club and combine our two cheese clubs with any or all of our other five monthly clubs in one membership.
Make your gift more valuable with a personalized announcement.
Rest easy - we're going to make you stand out by shipping an assortment of expertly selected, artisan cheeses.
Why not combine our two cheese club into one gift membership with our Design Your Own Club™ program?
With the DYOC, you can customize your cheese membership by adding beer, cigars, wine, chocolate, and flowers. How you create the club is entirely up to you!
A Cheese Club Membership is Memorable, Affordable, and Easy
Fast and Easy – Order your club membership online or over the phone. Save up to $30 on your order with our promo codes.
Skip the Stores – Let us pick delicious cheeses for you and save you time and effort.
Gift Announcements – Email or print a personalized gift announcement for the recipient.
Create Your Own Club – Use our Design Your Own Club™ program to pair cheese with beer, cigars, flowers, chocolates, and even wine to create your custom wine and cheese of the month club!
Personalize Your Membership – Choose when and how often you will receive your gourmet cheeses.
Customer Testimonials
"Words can't express how excited our house gets when our monthly cheese arrives."

Matt & Amy Hale, CA
"Thank you cheese of the month club, you make the third week of the month truly delicious!"

Brianna, VA
"I would recommend this gift to any foodie, cheesie or adventurer that you know!"

Erica Cohen, NY
"We have so much fun experiencing our cheese when it arrives..."

Tiffany W, SC
"Thank you for such a high-quality product."

Victoria Swider, IN
Read more testimonials
100% Satisfaction Guarantee
Our 100% satisfaction guarantee ensures that every item you purchase at Gourmet Cheese of the Month Club meets your high standards or we will replace it or refund your purchase.