Christmas Cheese Gift Ideas
The Christmas season is a time for family, friends, and the creation of lasting memories. We gather to celebrate, reflect on the previous year, and enjoy one another's company, but these festivities aren't complete without amazing, perfectly prepared foods, including delicious, artisanal farmhouse cheeses you can't find in your average grocery store.
For well over a decade, The Gourmet Cheese of the Month Club™ has helped improve the holidays and spread cheer by supplying quality cheeses crafted with pure, wholesome, and natural ingredients. When you want to provide the cheese lover in your life with quality cheeses they're sure to love, give them a subscription to The Original Gourmet Cheese Club or our newest club, The Rare Cheese Club. We'll find the best possible cheeses, ensure the recipient will receive the utmost quality, and deliver everything directly to their door.
Use our promo codes for your order to save up to $30.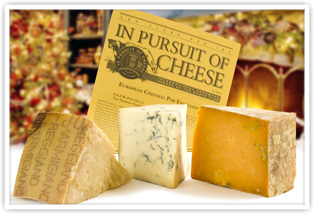 Send anywhere from 2 to 12 shipments every month, every other month, quarterly or on specific months you choose.
Design Your Own Club and combine our two cheese clubs with any or all of our other five monthly clubs in one membership.
Make your gift more valuable with a personalized announcement.
Rest easy - we're going to make you stand out by shipping an assortment of expertly selected, artisan cheeses.
Why not combine our two cheese clubs into one gift membership with our Design Your Own Club™ program?
With the DYOC, you can completely customize your monthly cheese subscription by adding selections of beer, cigars, wine, chocolate, and flowers. How you create the club is entirely up to you!
A Cheese Club Membership is Memorable, Affordable, and Easy
Fast and Easy – Order your club membership online or over the phone. Save up to $30 on your order with our promo codes.
Skip the Stores – Let us pick delicious cheeses for you and save you time and effort.
Gift Announcements – Email or print a personalized gift announcement for the recipient.
Create Your Own Club – Use our Design Your Own Club™ program to pair cheese with beer, cigars, flowers, chocolates, and even wine to create your custom wine and cheese of the month club!
Personalize Your Membership – Choose when and how often you will receive your gourmet cheeses.
Customer Testimonials
"Words can't express how excited our house gets when our monthly cheese arrives."

Matt & Amy Hale, CA
"Thank you cheese of the month club, you make the third week of the month truly delicious!"

Brianna, VA
"I would recommend this gift to any foodie, cheesie or adventurer that you know!"

Erica Cohen, NY
"We have so much fun experiencing our cheese when it arrives..."

Tiffany W, SC
"Thank you for such a high-quality product."

Victoria Swider, IN
Read more testimonials
100% Satisfaction Guarantee
Our 100% satisfaction guarantee ensures that every item you purchase at Gourmet Cheese of the Month Club meets your high standards or we will replace it or refund your purchase.