| | Current Cheese of the Month Club Offers | Code |
| --- | --- | --- |
| | Save $5 on any term membership with promo code: | CHEESE$5 |
| | Save $10 on 4-month memberships with promo code: | CHEESE$10 |
| | Save $15 on 6-month prepaid memberships with promo code: | CHEESE$15 |
| | Save $30 on 12-month prepaid memberships with promo code: | CHEESE$30 |
Please remember that coupon codes are valid for a limited time. We strongly encourage members and visitors to check back from time to time for new sales and promotional codes. You can also learn about new promotions by signing up for our newsletter!
Why Choose The Gourmet Cheese of the Month Club?
For true cheese lovers, few things beat the flavors and unique characteristics of artisanal-quality farmhouse cheeses, and for over 25 years, The Gourmet Cheese of the Month Club has been delivering hand-crafted cheeses from around the world directly to our customers' doors. The Gourmet Cheese of the Month Club's featured cheeses are hand-selected from international cheesemakers committed to creating unmatched quality and flavor by using the purest, most natural ingredients. We encourage you to visit our artisanal cheese club comparison guide to see exactly what sets us apart from our subscription box competitors.
Our commitment to quality and flavor ensures that our customers will only receive the best cheeses every month. For more information, read about our artisanal cheese selection process!
I Want to Join! How do I Use My Promotional Code?
Our coupon codes are very easy and quick to use. After you've added your Original Gourmet Cheese Club or The Rare Cheese Club subscription to the cart, simply enter one of the codes above in the Promotion Code Box before checking out. It's that easy!
For more information, or for some help with entering your coupon code, give us a call at 1-800-625-8238, or contact us using LiveChat during our regular business hours: Monday-Friday from 8-5, PST.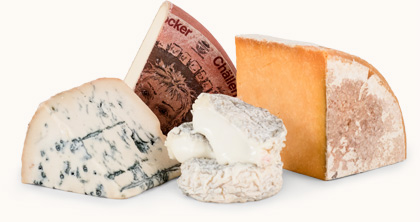 Experience International Variety
You might receive a Gaperon, originating in France during the 14th Century, an
authentic Lancashire by Ruth Kirkham, and an Italian Taleggio matured in the
caves of Valsassina…all in one shipment!
DISCOVER OUR TWO CLUBS
Responsive Customer Service
Our friendly and knowledgeable customer service team will help you with any questions. You may also place orders over the phone.
Mon-Fri, 7am - 4pm Pacific
Rated Customer Service
Assuring satisfaction to over 1,000,000 CUSTOMERS since 1994 has earned us an
rating from the BBB. A BBB Accredited business since 10/05/2005
View Our Profile
100% Satisfaction Guarantee
Our 100% satisfaction guarantee ensures that every item you purchase at Gourmet Cheese of the Month Club meets your high standards or we will replace it or refund your purchase.