Cheese Club Gift Ideas
Finding just the right cheese gift idea for a holiday, birthday, anniversary or other special occasion can be a real challenge. You could spend hours looking through specialty catalogues and boutique cheese shops hoping to find just the right thing that's truly memorable…And then hope that they don't already have it. And then there's the matter of shipping a perishable product.
We invite you to let us do the groundwork for you and give what any cheese lover or turophile would be thrilled to get…a subscription to The Original Gourmet Cheese Club or our newest club, The Rare Cheese Club. Our two cheese clubs feature a variety of small-batch and traditionally made, artisanal and farmhouse cheeses made from the best natural ingredients.
Use our promo codes for your order to save up to $30.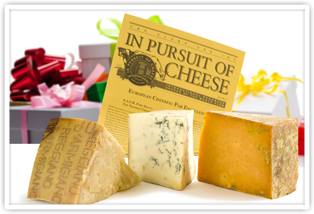 Send anywhere from 2 to 12 shipments every month, every other month, quarterly or on specific months you choose.
Design Your Own Club and combine our two cheese clubs with any or all of our other five monthly clubs in one membership.
Make your gift more valuable with a personalized announcement.
Rest easy - we're going to make you stand out by shipping an assortment of expertly selected, artisan cheeses.
Why not combine our two cheese clubs into one gift membership with our Design Your Own Club™ program?
With the DYOC, you can customize your cheese subscription box by adding monthly selections of cheese, beer, cigars, wine, chocolate, and flowers. How you create the club is entirely up to you!
Giving the Gift of a Cheese Club Membership is Affordable and Easy
Gift memberships are available from 2 to 12 months and can be sent monthly, every other month, quarterly or even on specific months that you choose. Your generosity will be remembered for months to come.
With our Design Your Own Club™ program, you can create a truly personalized gift by combining our cheese clubs with our monthly beer clubs, wine clubs, cigar clubs, chocolate club, and our Flower of the Month Club!
Many of our customers have created their own wine and cheese of the month club using DYOC!
On demand customized gift announcements can be printed or emailed immediately or emailed on a pre-specified date.
You won't need to worry about wrapping or waiting in line at the post office to ship your gift.
Order quickly and easily either toll free or online in minutes. Checkout as a guest or set up an account to manage your orders and gift announcements.
Use our promo codes and save up to $30 on your order.
Lastly, rest easy knowing that we'll consistently deliver outstanding artisanal cheeses, served up with responsive customer service that's earned us an A+ rating with the Better Business Bureau.
Customer Testimonials
"Words can't express how excited our house gets when our monthly cheese arrives."

Matt & Amy Hale, CA
"Thank you cheese of the month club, you make the third week of the month truly delicious!"

Brianna, VA
"I would recommend this gift to any foodie, cheesie or adventurer that you know!"

Erica Cohen, NY
"We have so much fun experiencing our cheese when it arrives..."

Tiffany W, SC
"Thank you for such a high-quality product."

Victoria Swider, IN
Read more testimonials
100% Satisfaction Guarantee
Our 100% satisfaction guarantee ensures that every item you purchase at Gourmet Cheese of the Month Club meets your high standards or we will replace it or refund your purchase.