Featured Cheese - October 2018
Our cheese selection process is the cornerstone of our success and is what sets us apart from other artisanal cheese clubs. We look for traditionally made, farmhouse and artisanal cheeses made from the best natural ingredients. You will taste the difference.
Scroll down to discover this month's artisanal cheese selections, or view all of our upcoming selections with the links below…
2023 Original Cheese Club Selections 2023 Rare Cheese Club Selections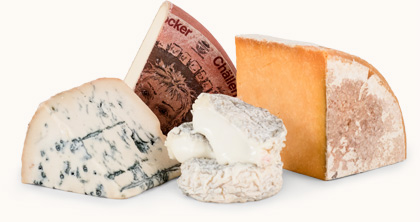 Experience International Variety
You might receive a Gaperon, originating in France during the 14th Century, an
authentic Lancashire by Ruth Kirkham, and an Italian Taleggio matured in the
caves of Valsassina…all in one shipment!
DISCOVER OUR TWO CLUBS
Responsive Customer Service
Our friendly and knowledgeable customer service team will help you with any questions. You may also place orders over the phone.
Mon-Fri, 7am - 5pm Pacific
Sat-Sun, 8am - 12pm Pacific
Rated Customer Service
Assuring satisfaction to over 2,000,000 CUSTOMERS since 1994 has earned us an
rating from the BBB. A BBB Accredited business since 10/05/2005
View Our Profile
100% Satisfaction Guarantee
Our 100% satisfaction guarantee ensures that every item you purchase at Gourmet Cheese of the Month Club meets your high standards or we will replace it or refund your purchase.