The Erb family's New Hampshire farm has been nestled in the foothills of the White Mountains since the 1950's, but married couple Doug and Debbie Erb left the milk commodity business in 2008 to begin making cheese. Though the cheese bears the name of their farm, Landaff, it is actually crafted in the style of the Welsh cheese Caerphilly. The couple learned to make this traditional cheese from the Duckett family in Somerset, England and then began making it at their farm when they returned.
Landaff is a semi-firm, raw cow's milk cheese made from the farm's own Holstein cows and then aged 4-6 months by the Kehler brothers at the famous Cellars of Jasper Hill in Vermont.
Landaff is refreshingly different from a cheddar or a gouda. Though fairly firm, the paste is open and crumbly and melts like butter on your tongue. The flavor is milky and tart like a fresh yogurt and develops a mottled gray, natural rind that smells earthy from being aged in the cave-like cellars. The paste is a lovely, creamy yellow and as it matures it forms a slightly darker, richer yellow band just under the rind.
With its clean mouth feel, this is a refreshing eating cheese and will perk up any cheese tray. It is wonderful crumbled on top of salads or better yet, slice a nice wedge of this for lunch and wash it down with a frosty glass of your favorite IPA or hoppy farmhouse ale. If beer's not your thing, try a crisp hard cider with your Landaff cheese.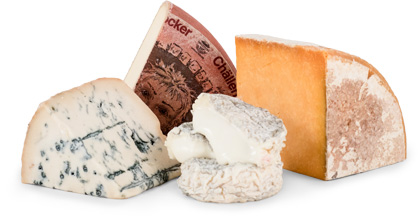 Experience International Variety
You might receive a Gaperon, originating in France during the 14th Century, an
authentic Lancashire by Ruth Kirkham, and an Italian Taleggio matured in the
caves of Valsassina…all in one shipment!
DISCOVER OUR TWO CLUBS