Based in Thorp, Wisconsin, Marieke® Gouda was founded in 2006 by husband and wife team Marieke and Rolf Penterman. Originally from the Netherlands, the couple met when Rolf was visiting a dairy farm in Canada where Marieke was working at the time. They became friends and stayed in touch for several years. As dairy farming in Holland is very expensive due to farmland being very scarce, Rolf headed to Wisconsin and purchased a 350-cow dairy farm in Thorpe in May 2002 where Marieke joined him in those first weeks. Soon they were not only making big plans for the farm, they were making big plans for their future as well and were married in 2003.
Marieke was initially helping with bookkeeping and other chores when she found herself missing the Dutch cheese she grew up with. Discovering that Wisconsin requires a cheesemaking license, she started an apprenticeship with a local cheesemaker before heading back to her native Holland and working with two different craftsmen there. Once she obtained her license, she imported cheese making equipment, cultures, and herbs from the Netherlands and completed her first batch on November 22, 2006. Just a few months later, she entered three of those first cheeses, Plain Young, Cumin, and Foenegreek, into the US Cheese Championship in 2007. In that first try she won the first of many gold medals for the Foenegreek which is what you have in your shipment today. Over the years, the Foenegreek has won awards at the World Cheese Championship, World Dairy Expo, and with the American Cheese Society to name a few.
This award winning Foenegreek Gouda is aged between 2-4 months, and has flavors of a traditional Gouda with notes of mild sweetness and butter with added flavors of nuttiness and maple syrup from the Foenegreek (usually spelled Fenugreek in English) seed. This semi-soft cheese is perfect for adding a unique twist on sandwiches, salads, or cheeseburgers but also works beautifully on its own. As for drink pairings, try an amber beer or dark rum. Just remember to always bring the cheese to room temperature before enjoying.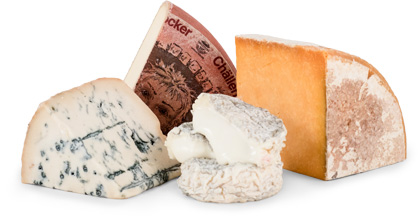 Experience International Variety
You might receive a Gaperon, originating in France during the 14th Century, an
authentic Lancashire by Ruth Kirkham, and an Italian Taleggio matured in the
caves of Valsassina…all in one shipment!
DISCOVER OUR TWO CLUBS