Cheese and Wine Pairing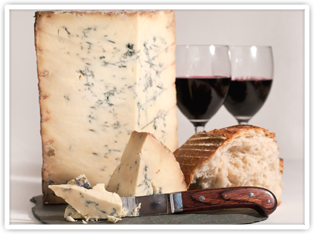 Traditions, customs, and cultured palates – dating long before the Roman Empire – marry cheeses with wines and wonderful breads too. We like to serve our cheeses with ciders and microbrewed beers as well. Check out our International Wine of the Month Club and Microbrewed Beer of the Month Club.
The best rule is to eat it that way if you like it that way, but here are some more specific wine and cheese guidelines for your consideration:
Most white wines may be served with almost any cheese
The most complementary reds for bloomy rind cheeses are fruity and light, or try a dry Champagne for a sophisticated choice
White, fresh, medium to hard cheeses are delightful with crisp, fruity wines... both red and white
If you love goat cheese, try filling your glass with dry reds
Smooth, creamy cheeses cry out for full bodied wines
If you are serving sweet wines, go for cheddar
Consider combining our wine club with our cheese club to create one of many really fun Wine and Cheese Gift Ideas, or call us at (800) 625-8238.