Founded in Manchester, Michigan, and now located in Ann Arbor, Michigan, Zingerman's Creamery was established in 2001 by John Loomis, Dave Carson, Ari Weinzweig and Paul Saginaw, who cut their teeth by making their Real Cream Cheese®, an enduring locals' favorite. Aubrey Thomason joined the creamery team in 2007 and during the past eleven years became the managing partner, then sole partner of Zingerman's Creamery. The creamery specializes in making goat's and cow's milk cheeses, as well as sorbets and gelato. Everything is made in small batches with only the freshest, best milk from small, local farmers, such as longtime partner, Calder Family Dairy, who share their passion for quality and tradition. All of their cheeses are hand-ladled, which preserves the delicate characteristics of the curd. Their uncommonly-long sets draw out full, complex flavors, and low-heat, long pasteurization cycles maintain those flavors. In addition to the creamery, Zingerman's also has a cheese shop named Cream Top Shop, featuring their cheeses, sorbets, and gelatos. The creamery also offers guided tours and specially curated educational tastings, should you find yourself in the area.
Zingerman's Bridgewater is a robust, soft-ripened cheese made from pasteurized cow's milk and animal rennet. A younger cheese, it is aged two to four weeks prior to release. In addition to simply being visually stunning and making an outstanding addition to any cheese tray, this delicious, double-cream cheese offers a multi-layered, complex tasting experience. Prior to being cut, it is a sphere of cheese covered in a white bloomy mold. When sliced open to reveal the cheese inside, Tellicherry peppercorns dot the pale-yellow paste. Just under the rind, the paste begins to mature, forming a creamy, fluid texture like custard or pudding. The center of the paste is drier, chalkier, and shows soft citrus and mushroom flavors. The result is a burst of buttery, peppery flavor with a super-clean mouthfeel.
Enjoy Zingerman's Bridgewater on crusty French or Italian bread, crisp crackers, as an accompaniment to tree fruits, such as sliced apples and pears, or even a sweet fruit jam or chutney. As the cheese ages, the Tellicherry peppercorns become even more pronounced, rendering it a spicy cheese to melt into pasta sauces or crumble over salads and soups. Pair this creamy, peppery cheese with Blanc de Blancs (Chardonnay) sparkling wines, a lightly-oaked, still Chardonnay, aromatic whites like Riesling and Gewurztraminer, softer-tannin reds like Beaujolais or Pinot Noir, a fruit-flavored beer, or a crisp, hard apple cider.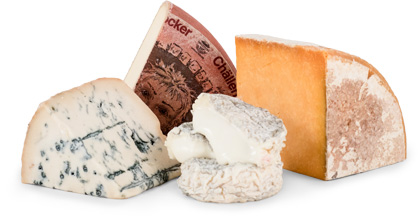 Experience International Variety
You might receive a Gaperon, originating in France during the 14th Century, an
authentic Lancashire by Ruth Kirkham, and an Italian Taleggio matured in the
caves of Valsassina…all in one shipment!
DISCOVER OUR TWO CLUBS