In 1978, third-generation Belgian affineur (one who ages and matures cheese) Michel Van Tricht purchased the family bakery and delicatessen from his parents, Pieter and Juliette Van Tricht. It was his role as owner that piqued his interest in cheese, so much so that he began partnering with local farmers and dairies to select cheeses for his shop. His passion for all things cheese led to him becoming an affineur and purveyor of fine cheeses, converting his bakery and delicatessen into a cheese shop.
Today Van Tricht and his son, fourth-generation affineur Frederic Van Tricht, work alongside longtime award-winning Belgian cheesemakers like third- and fourth-generation Johan and Louis-Philippe Deweer of Kaasboerderij 'T Groendal, who are known for their aged goudas and Trappist-style cheeses. When the demand for Deweer family cheeses grew, they built a new state-of-the art dairy, whose construction was completed in 2019. Finally, they had the production capacity to meet the increasing customer demand with equally flavorful cheeses with shorter aging profiles. This ability to produce younger cheeses called for Van Tricht's valuable and experienced affinage.
As part of your club shipment this month, we are thrilled to present a 'T Groendal and Van Tricht collaboration cheese, Young Farmdal, a gouda made from pasteurized cow's milk and vegetarian rennet, whose cultures have been adapted for shorter maturation. In the case of this cheese, it is aged up to eight weeks.
Young Farmdal is everything you want in a fine gouda, but with a softer paste. It is ivory in color, with a luxurious buttery texture. While it shows traditional gouda notes of caramel, it is more reminiscent of sweet cream and vanilla with a tangy finish. It will accompany fresh fruit, charcuterie, and crackers on an appetizer platter. Or, melt it for fondue, grilled cheese sandwiches, mashed potatoes, and cheese-based soups.
Pair Young Farmdal with Brut Champagne or other sparkling wines like Cava, Prosecco, or Sekt. Also try lighter reds with acidity – Beaujolais or Pinot Noir – or whites like Chablis, Gewürztraminer, or dry Riesling. For beer or cider lovers, we suggest beverages with sweetness, like brown ales, bocks, and farmhouse hard ciders.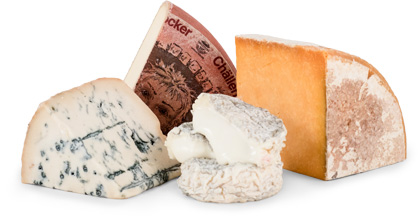 Experience International Variety
You might receive a Gaperon, originating in France during the 14th Century, an
authentic Lancashire by Ruth Kirkham, and an Italian Taleggio matured in the
caves of Valsassina…all in one shipment!
DISCOVER OUR TWO CLUBS