According to our sources, the mention of Parmigiano-Reggiano dates as far back as 1344, per a listing in a purchase ledger. However, monks in Emilia-Romagna had been trying and testing different methods of cheesemaking long before, including the twice heating of milk to create a hardening paste similar to that of parmigiano, or parmesan in English. Parmigiano-Reggiano has been strictly regulated under Consorzio law in Italy since 1955, and subsequently regulated by the European Union since 1992. Our exemplary selection this month, Valserena Parmigiano Reggiano, is made by cheesemaker Giovanni Serra of Serra Farm in Parma, located in the Po River Valley of Emilia-Romagna. The Serra family is reputed to be the oldest producer of Parmigiano-Reggiano in Italy, so it is a real treat to offer this cheese to you. While there are many Parmigiano-Reggianos available in the market, not all are created equally. After tasting hundreds of samples and a year-long search, we are delighted to have secured this special selection for you. We think you will agree that our research was worth our effort and time. It is one of the best cheeses we have had the honor to offer.
Valserena Parmigiano Reggiano is a firm, cow's milk, parmesan cheese, aged 24-36 months. Its texture is firm and crumbly, with visible flavor crystals. On the palate, this cheese explodes with flavors, including an interesting juxtaposition of rich butter and bright citrus. The finish is longingly inviting, so much so that you will wish you had more. Oftentimes this cheese is served in pieces drizzled with a touch of honey or balsamic vinegar from Modena. While delicious, we confess that we love this Parmigiano-Reggiano on its own at first bite – nothing added, melted, or paired with it – to experience its amazing palette of flavors. It is an excellent addition to a pre- or post-meal cheeseboard, a fruit and nut plate, or Italian charcuterie platter of proscuitto and salami. That being said, Valserena Parmigiano Reggiano will add incredible flavors to pasta, risotto, and pizza, as well as any dish that calls for grated or melted cheese, such as salads and soups. Valserena Parmigiano Reggiano is one of those cheeses that will pair with wines of all types, including sparking, still, white, and red wines. We suggest trying Valserena Parmigiano Reggiano with its regional partner in wine, Lambrusco, as well as Amarone, Barbera, Corvina, Pinot Grigio, and Trebbiano.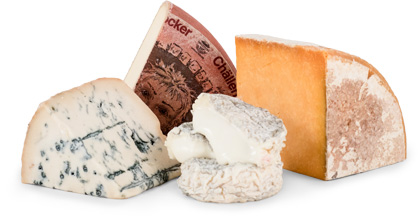 Experience International Variety
You might receive a Gaperon, originating in France during the 14th Century, an
authentic Lancashire by Ruth Kirkham, and an Italian Taleggio matured in the
caves of Valsassina…all in one shipment!
DISCOVER OUR TWO CLUBS