In the early 1990s, Pierluigi Sini wanted his family's Italian cheeses to be sold in the United States. It was during this time that he met Michele Buster, who, eager to learn the cheese business, agreed to work with Pierluigi to market and sell his cheeses. The resulting collaboration was the creation of Forever Cheese in 1998, whose mission is to bring to us the finest of Mediterranean-style cheesemaking, including cheeses from Croatia, Italy, Portugal, and Spain. Over the course of the past 20 years, Michele and Pierluigi have forged relationships with artisan producers to bring their stories and products to life in new markets, from their family businesses to our tables.
This selection from Forever cheese, Valdéon, is a pasteurized, semi-firm blue cheese made from both cow and goat's milk from the base of the Picos de Europa in the town of Posada de Valdeón, Castilla y Léon, Spain, by a family-owned and operated cheesemaker. While considered a sister cheese to the Cabrales DOP (Denominación de Origen), the Valdéon is milder, with a luxurious, creamy texture. Traditionally wrapped in oak or maple leaves and aged six months, this cheese captures the attention of your palate with its rustic and robust flavor combination. A Silver Medal winner at the 2015 World Cheese Awards, pair this earthy, spicy, and sweet blue cheese with fresh fruit or a Spanish red wine like Tempranillo.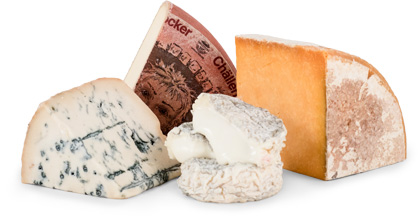 Experience International Variety
You might receive a Gaperon, originating in France during the 14th Century, an
authentic Lancashire by Ruth Kirkham, and an Italian Taleggio matured in the
caves of Valsassina…all in one shipment!
DISCOVER OUR TWO CLUBS