Handcrafted at Käserei Oberli in St. Gallen, Switzerland, at about 2,000 feet above sea level, Üsi Minnie is the creation of master cheesemaker, Christian Oberli, and made in the style of Alpine Mutschli. Mutschli cheeses are made in higher altitude alpine dairies, typically from curds leftover from gruyère or bergkäse. A fun fact about this cheese's name is that Üsi translates to our and is typically only used with great affection. Minnie is none other than one of Christian's favorite cows on the farm where the cheese is produced.
Kaserei Oberli was founded in 1918 and was largely focused on the production of Emmentaler, most of which was exported. After the family's second generation took over, Oberli began producing Tilsiter and did so exclusively until 1998 when Christian diversified further into the production of Raclette, Sennenkase and, of course, Üsi Minnie, the cheese you will have the opportunity to try this month.
Üsi Minnie shows a rich, dense, creamy paste. While tasting it, it was difficult for us not to imagine the pastures in which Minnie grazed, as the influence of their mountain terroir is prevalent on the palate. This bold and tasty cheese exhibits flavors of deep, roasted nuts and rich butter, which balance nicely with its plentiful floral, herbal, and grassy notes. A touch of lactic bite and spice on the finish round it out nicely. Overall, this is a flavorful Alpine cheese that remains true to its terroir and cheesemaking heritage. Because of its spicy and floral qualities, we suggest that you pair it with aromatic white wines from similar, mountainous winemaking regions like Alsace, Austria, or Germany. Wines like sparkling crémant d'Alsace or German sekt, gewürztraminer, muscat, pinot gris, or riesling would make great choices. A crisp, effervescent cider would do the trick as well.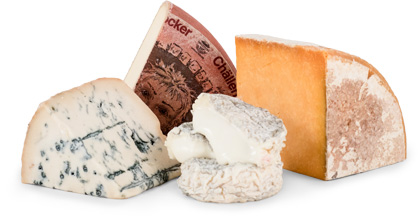 Experience International Variety
You might receive a Gaperon, originating in France during the 14th Century, an
authentic Lancashire by Ruth Kirkham, and an Italian Taleggio matured in the
caves of Valsassina…all in one shipment!
DISCOVER OUR TWO CLUBS