Ur-Eiche, which means "Old Oak," is one of the most interesting cheeses we have discovered over the years, plus it has a cool story. You are going to love everything about it.
Christa Egli – one of the few women master cheesemakers in the business – is the mover and shaker at Chäsi Girenbad about 20 miles southwest of Zürich, Switzerland, where she leads an above average number of highly creative, detailed, and enthusiastic women cheesemakers who annually make 14 different types of cheeses from 1.1 million kilograms of milk provided by eight local dairies.
To ensure the best cheeses, Egli often pays higher than average for extraordinary milk. "A fair milk price guarantees the farmers' existence and also makes sure the dairy gets high-quality milk. Only when all participants in the production chain benefit, can we expect long term success," she added.
Egli revels in the ingenuity of Girenbad, which includes the dairy's distinctive approach to the cheesemaking and affinage of Ur-Eiche. She and her team receive fresh raw milk daily in the evening, store it overnight in a copper kettle, then skim it by hand to adjust the fat content. Egli also uses her own whey cultures – which she also cultivates the day before and uses the following day. If that were not enough, she produces her own calf rennet. She and her team wash the wheels of Ur-Eiche with oak wood extracts and age it for 10 months with wood on top. The wheels then travel to Gourmino, where affineurs double check the cheese's quality. Ur-Eiche gets its name from this unique oak treatment, and the name is stamped into the rind.
Ur-Eiche is pale yellow in color and crumbly in texture, with aromas and flavors that reflect the one-of-a-kind approach to cheesemaking. It is all at once fruity, nutty, and yeasty, with a touch of salinity and a hint of barrique-like notes that come from the wood influence. Ur-Eiche will be lovely on a fruit and nut platter, accompanied by bourbon or a buttery, oaky Chardonnay. When it comes to Ur-Eiche's profile, perhaps Egli describes it best, "Smells like pineapple, tastes like cheese washed in oak and made by ladies."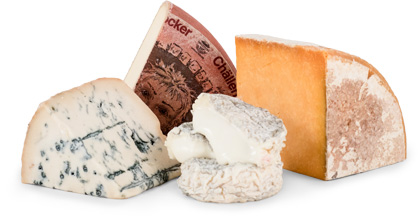 Experience International Variety
You might receive a Gaperon, originating in France during the 14th Century, an
authentic Lancashire by Ruth Kirkham, and an Italian Taleggio matured in the
caves of Valsassina…all in one shipment!
DISCOVER OUR TWO CLUBS