Uplands Cheese Company's Pleasant Ridge Reserve is arguably one of the best cheeses being produced in the United States at this time and is currently the most awarded cheese to date. The farm was founded in 1994 by two neighbors, the Gingriches and the Patenaudes, with the intent of joining their small herds and managing them in a seasonal, pasture-based system. Andy Hatch and Scott Mericka, who purchased the farm with their wives Caitlin Hatch and Liana Mericka, both began as apprentices under founders Mike Gingrich and Dan Patenaude.
The farm's location is ideal for growing a diverse range of herbs, legumes and grasses which contribute to high quality milk with exceptional flavors. And so, it wasn't long before its founders began the quest to learn more about other regions in the world that produced world-class cheeses from seasonally grass-fed cows. They settled in on hard, aged cheeses of the Alpine regions of France and Switzerland and currently produce only two cheeses, one of them America's most-awarded cheese which you'll have the opportunity to try this month. The only cheese in the world to do so, Pleasant Ridge Reserve has won Best of Show in the American Cheese Society's annual competition three times and has also won the US Cheese Championships in 2003.
We're indeed fortunate to have a special relationship with Uplands Cheese, who allow us to hand-select the batch dates for the cheeses that we purchase for our customers, ensuring we secure the best flavored batches. Andy only makes Pleasant Ridge Reserve in the summer months when his cows are grazing in the rolling green hills of the farm's pasture.
Pleasant Ridge Reserve is made in the style of traditional Alpine mountain cheeses, like Beaufort or Gruyère, but in a much smaller format (approx. 7 pounds). Aged over a year, flavor crystals have developed and add dimension to its creamy texture. The paste is almost amber in color and the flavors are rich and fruity, almost like blackberries. Sweet grass notes integrate beautifully with rich, slightly salty, fruity notes that linger pleasantly. You're going to love it. Consider pairing it with a quality aged salami and roasted herbed mushrooms, brandied peach halves, fig preserves or olive jam. Pleasant Ridge Reserve will also pair nicely with a crisp Belgian Witbier like Allagash Brewing's White or with Moscato d'Asti, a refreshing summer wine.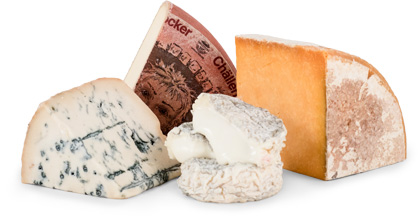 Experience International Variety
You might receive a Gaperon, originating in France during the 14th Century, an
authentic Lancashire by Ruth Kirkham, and an Italian Taleggio matured in the
caves of Valsassina…all in one shipment!
DISCOVER OUR TWO CLUBS