Ubriaco del Piave is a firm, Italian-style, latteria cheese from farmers in the Piave region of Veneto, Italy. It is made from pasteurized cow's milk – from two milkings. The most striking initial aspect of this cheese is, of course, the deep and vibrant violet color of the rind and its remnants of grape leaves and seeds. Cheesemaker Sergio Moro bathes the Ubriaco del Piave for 40 hours in a proprietary mix of red wines and grape must, including the Veneto's traditional Refosco wine, as well as other seasonal varieties like Cabernet Sauvignon, Merlot, and Clinton, then ages the cheese for four to six months. All of the wines used hail from an area near the Piave River, which originates in the Dolomite Mountains and flows into the Adriatic Sea just north of Venice. The Ubriaco del Piave was the original ubriaco (drunk) style of cheese.
There is a funny story about how this unlikely marriage of cheese and wine was created. Long ago, cheesemakers would immerse wheels of cheese inside barrels of fermenting wine to avoid paying the taxes on them. The resulting wine-soaked cheese became popular over time, so cheesemakers began intentionally producing their cheese using this process.
Once you taste the Ubriaco del Piave, imagine the gallons of red wine that went into creating this cheese. The wine delivers an infusion of fruitiness and sweetness to the cheese's fragrant nose and luxuriously supple, straw-colored paste. On the palate, the Ubriaco del Piave has a strong, nutty bite, intermingled with lingering red berry flavors like cherry and strawberry. Because of its color, it's a beautiful addition to cheese boards. What could be a better pairing with wine than a wine-soaked cheese?! Try the Ubriaco del Piave with Italian red wines like Refosco, the obvious regional choice, as well as other reds from Veneto like Amarone, Bardolino, Raboso Piave, and Valpolicella. Balance the sweetness of this cheese with the salinity of Marcona almonds, olives, and a traditional Italian charcuterie platter with choices like bresaola, capocollo, mortadella, pancetta, prosciutto, salumi, and soppressata.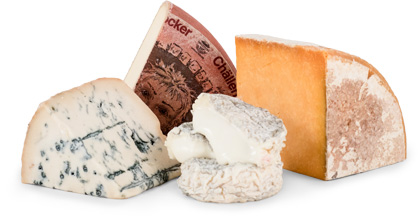 Experience International Variety
You might receive a Gaperon, originating in France during the 14th Century, an
authentic Lancashire by Ruth Kirkham, and an Italian Taleggio matured in the
caves of Valsassina…all in one shipment!
DISCOVER OUR TWO CLUBS