Located on the northwest side of Indianapolis, Indiana, Tulip Tree Creamery was founded in 2014 by two cheesemaking industry veterans: Dutch transplant Fons Smits and his partner Laura Davenport. While Fons has traveled internationally, consulting with and developing dairies and is primarily focused on making Tulip Tree's cheeses, Laura heads up the sales, marketing and education side of the house.
The creamery sources their milk from several places, including a local co-op that supplies them with organic grass-fed milk, and from Dandy Breeze Creamery, whose Jersey cows are 100% grass fed. Jersey cows aren't Giants fans who put down copious amounts of beefsteaks while listening to Born in the USA. In fact, the breed's hometown is the island of Jersey, a British island located in the English Channel. They were brought to the U.S. in the 1850s and are highly regarded for their dense, creamy milk. Tulip Tree has just 5 full-time employees, including its two owners, and sells their 100% hand-crafted artisan cheeses at farmers and other local markets. They're one of our favorite recent discoveries and soon you'll taste why.
Winner of a 2018 American Cheese Society Blue Ribbon, Trillium is a triple crème, 2-4 week aged, bloomy-rind cheese inspired by the French classics Camembert and Brie. Its richness and soft buttery texture will make you blush with each bite! The flavor is buttery, soft and gently sweet with hints of lactic tones. We'd suggest pairing it with your favorite sparkling wine or Champagne. Its uber-rich paste can stand up to the acrid roasted coffee notes of bolder stouts like Spider Bite Beer Company's Boris the Spider, a Russian Imperial Stout featured in The Microbrewed Beer of the Month Club.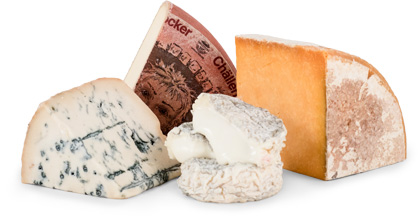 Experience International Variety
You might receive a Gaperon, originating in France during the 14th Century, an
authentic Lancashire by Ruth Kirkham, and an Italian Taleggio matured in the
caves of Valsassina…all in one shipment!
DISCOVER OUR TWO CLUBS