Our next selection in this month's lineup comes from Tulip Tree Creamery, located on the northwest side of Indianapolis, Indiana, in the section of town named Park 100. Founded in 2014 by Dutch cheesemaker, Fons Smith, and marketer and educator, Laura Davenport, Tulip Tree focuses on small-batch, handmade cheeses crafted from classic, European recipes with an American twist. The creamery sources milk from various family farms, including Lot Hill Dairy, Dandy Breeze Creamery and other farms, which practice certified humane and/or organic farming. Both Smith and Davenport bring with them years of creamery experience having worked in the past with Cowgirl Creamery (CA), Traders Point Creamery (IN), Teton Valley Creamery (ID), and Ludwig Farmstead Creamery (IL). Tulip Tree has three full-time and five part-time employees, in addition to Smith and Davenport, who make, sell, package the cheeses, as well as offer classes. The creamery is a member of the Good Food Guild, Slow Food Indy, American Cheese Society, Indianapolis Chamber of Commerce, and Zionsville Chamber of Commerce.
Tulip Tree's Nettle, a 2016 American Cheese Society Winner, is a delicate, crumbly, and bovre-style fresh cheese similar in style to a chèvre but made with pasteurized cows' milk using microbial rennet that is vegetarian-friendly. The cheese is covered in fresh mint, sage, and nettle leaves, which makes for a savory, yet clean, bright, and lactic flavor profile. It is an ideal cheese to bring along on a picnic because it is so versatile. Sprinkle this cheese on salads, pasta, sauces, and other dishes calling for a garnish of cheese. It is also spreadable on crackers and vegetables. Wine lovers, pair Nettle with white, rosé, or red wines, including Chambourcin, Gewurztraminer, Riesling, Sauvignon Blanc, Traminette, or a Meritage red blend. For beer drinkers, we recommend a pale ale or a maibock.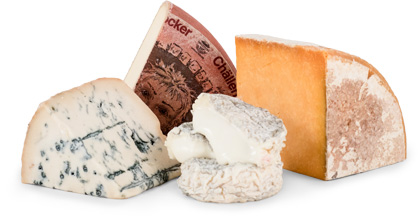 Experience International Variety
You might receive a Gaperon, originating in France during the 14th Century, an
authentic Lancashire by Ruth Kirkham, and an Italian Taleggio matured in the
caves of Valsassina…all in one shipment!
DISCOVER OUR TWO CLUBS