We've recently discovered Tomme Saint Georges, a French, semi-soft, sheep's milk cheese aged 3-6 months, and we're excited to share it with you, but first a little backstory. The cheese, made in the French Alps by Société Fromagère de Riom, is a bit of a cross between Ossau Iraty and a traditional French Tomme such as Tomme de Savoie. Most Tomme-style cheeses produced in the French and Swiss Alps use cow's milk, but Tomme Saint Georges breaks with that tradition.
This washed-rind cheese's name comes from the small town where it's made, Saint Georges, tucked away in a French region largely known for its medieval castles, like the Romanesque Abbey Church of St. Foy. The town itself is named after Saint George who is most often depicted in medieval paintings saving a princess from a ruthless dragon. Seems fitting that in the end he should at least have a cheese named after him.
Tomme Saint Georges' paste is moist and creamy. Its flavor profile reminds us of a sauce or bisque made from sweet cream, chives, and leeks. You might pick up on some bread-like yeasty qualities. Consider pairing it with bolder wines and beers along with prosciutto, honey or dried fruit.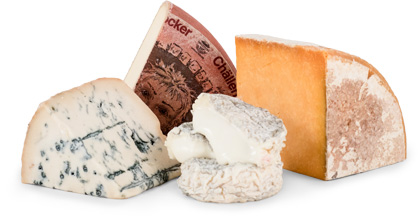 Experience International Variety
You might receive a Gaperon, originating in France during the 14th Century, an
authentic Lancashire by Ruth Kirkham, and an Italian Taleggio matured in the
caves of Valsassina…all in one shipment!
DISCOVER OUR TWO CLUBS