At the geographical union of northern and southern Europe you'll find the Rhone-Alps region, an area rich in culture, history and landscape. Here, at the meeting point of France, Switzerland, and Italy is a countryside long-famous for creating celebrated wines and sumptuous cheeses. Abondance, Bleu de Gex, Beaufort, Comte, Chevrotin, Emmental, Fourme de Montbrison, Picodon, Reblochon, Rigottes, Saint Marcellin, and Tomme de Savoie are some of the hundreds of cheeses from these fertile lands. This month we've chosen Tomme de Savoie for you, a semi-hard cow's milk cheese. Its interior is a buttery beige color and typically has numerous holes (or eyes) pervading the pâté. This bucolic gem is rather savory, yet surprisingly low in fat, containing in the range of 20-45% percent. The low fat content is due to the fact that it is made from the skim milk left over after separated cream has been used to make butter or richer cheeses. This cheese comes from Savoie, a region on the eastern boarder of Switzerland, where these cheesemakers are well known for Tomme-style cheeses. The word "tomme" has various meanings, referring to the wheel-like shape of the cheese mold as well as implying that the product is made using milk from more than one herd. Despite the milk mélange that is sometimes employed in its production, this cheese has a characteristically simple flavor, which is a major component of its classic charm. Also simple is the naming scheme applied to this cheese, though it might not appear that way at first glance. Tomme cheeses are named according to the region where they are produced, such as Savoie, the village in the Alps where this month's feature is made year round. Although this cheese is made throughout the year, many consider its character to have a degree of seasonality due to seasonal differences in feed: winter hay or summer grass. Overall, the flavor can generally be described as nutty and earthy, with summer varieties often regarded as grassier than their winter-made counterparts. Aging in traditional cellars for several months allows a thick rind to develop and often imparts a slight cellar flavor to the cheese. Tomme de Savoie often has tiny holes and is very savory with a mild aroma. Some cheese connoisseurs point out that this cheese is noted for its "fruity fragrance and rustic simplicity." One cheese taster describes Tomme de Savoie as "a personal favorite - rustic, simple, delicious"!
The maturing process takes two or more months, producing a cheese with a rustic appearance — a thick, sometimes fuzzy, grey rind with patches of yellow or red molds. The pâté can be a buttery color, or so pale that it is virtually white. It has many small eyes, and smells and tastes earthy like a cave. Tomme de Savoie is mild and creamy, fruity and nutty, but it's also a robust cheese with overtones of salt and an unmistakably raw flavor. Pair it with sausages, fruit, bread, and wine.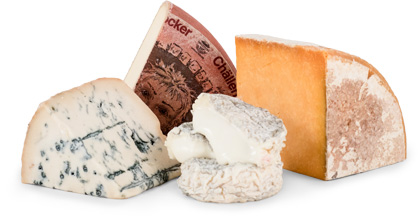 Experience International Variety
You might receive a Gaperon, originating in France during the 14th Century, an
authentic Lancashire by Ruth Kirkham, and an Italian Taleggio matured in the
caves of Valsassina…all in one shipment!
DISCOVER OUR TWO CLUBS