Tomme d'Abondance, often called simply Abondance, is a semi-hard, traditionally French, mountain cheese produced in the Abondance valley of Haute Savoie, in the Auvergne-Rhône-Alpes region near the border between France and Switzerland. The cheese is made exclusively from unpasteurized cow's milk sourced from its own breed of cattle, abondance, as well as tarine and montbéliarde.
Abondance has enjoyed AOC designation since 1990. AOC designations were created to ensure that products with long histories and strong senses of terroir will guard their identity and uniqueness in the marketplace. What that means is that a cheese producer cannot call a cheese Abondance if it is not made according to traditional methods and specifications and within the confines of a singular region, similar to wine AOCs like Bordeaux, Bourgogne, and Champagne.
Abondance was originally made by monks at the Abbaye d'Abondance (Abondance Abbey) in the 12th century. In the late 1300s, the monks were the official supplier of cheeses to the Avignon popes. This rich, ivory-yellow cheese is made in the area's mountain chalets from batches of raw milk that include both morning milk combined with milk from the previous evening. The milk is then heated in a copper cauldron to 90° F in order to warm the curd that is formed, but without cooking it. The curd is then cut, drained, put into a round wooden mold, and pressed for a day with a weight on it. It is then salted either by hand or soaked in brine, and then cave aged on spruce planks for six months at a temperature of 54° F and a humidity level of 95%. The cheese is brushed with brine and turned while aging.
Supple is the perfect adjective to describe Abondance's slightly grainy and creamy paste. Its floral, vegetal, and nutty aromas are pronounced. On the palate, it tastes intensely fruity and buttery with a pervasive hazelnut flavor, a beautiful balance of sweetness to acidity, and a persistent aftertaste. Enjoy Abondance's characteristic aromas and flavors, taste its unique terroir, and imagine the region's Alpine cows grazing on mountain flowers and grasses at 3000-6000 feet above sea level. When you receive this cheese, please remove its natural rind and gray layer underneath before eating it.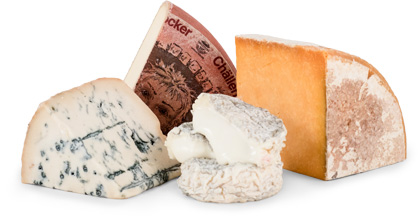 Experience International Variety
You might receive a Gaperon, originating in France during the 14th Century, an
authentic Lancashire by Ruth Kirkham, and an Italian Taleggio matured in the
caves of Valsassina…all in one shipment!
DISCOVER OUR TWO CLUBS