The second oldest cheese factory in the United States, Plymouth Artisan Cheese, has been producing unique artisan cheeses since 1890. While this is an amazing fact in itself, it gets even better. This cheesemaker still occupies the same building, now owned by the state of Vermont, as it did in 1890 when it was built by John Coolidge, the father of Calvin Coolidge, our 30th president. The elder Coolidge, who was a dairy farmer, created Plymouth Cheese as a means of not wasting fresh milk; by taking the extra milk and using it to make cheeses, he created dairy products with a longer shelf life. In doing so, he chose to use the same granular curd recipe that the first European settlers brought with them to the New World, rendering it the closest thing consumers can find to the cheeses America's first farmers produced in the 1600s. In fact, Plymouth Artisan Cheese may be the only cheese producer in the United States making original American heritage cheese. This cheese producer continues to make history with this month's selection, Grace's Choice.
Grace's Choice, winner of the Gold in the 2013 Big E Cheese Competition in the washed rind category, is named after Grace Coolidge, Calvin Coolidge's wife, who was often described as somewhat vivacious and talkative. Cheesemaker Jesse Werner crafts this eight-pound, semi-soft, lightly brine-washed, natural rind cheese using the same raw cow's milk from which Plymouth's other signature cheeses are made. Grace's Choice is aged three to six months.
Grace's Choice offers a creamy, fudgy paste and mouthfeel. It is smooth, buttery and delicious. Perhaps a bit like Grace herself, this is one sensuous cheese: mellow, yet also delicately laced with the taste of sweet grass and nuts. A solid snacking table cheese that would be a welcome addition to any cheese board, Grace also melts easily and would top off any open-faced tuna or heirloom tomato sandwich you have got queued up for the broiler. She is also quite versatile and will pair well with vintage sparkling wines, Burgundian-style chardonnay and pinot noir, Beaujolais (gamay), and Rhône-style whites and reds.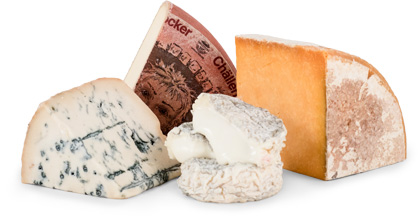 Experience International Variety
You might receive a Gaperon, originating in France during the 14th Century, an
authentic Lancashire by Ruth Kirkham, and an Italian Taleggio matured in the
caves of Valsassina…all in one shipment!
DISCOVER OUR TWO CLUBS