The word tetilla means nipple in Spanish and derives from a unique feature of Tetilla. Note the small nipple on the top of this flattened pear-shaped cone of cheese produced in Galicia, in northwestern Spain. The region—a predominantly farming culture—can claim the highest production of cow's milk in the country. In all corners of the region, you can find cheesemakers producing Galician Tetilla cheese. In addition to its unique shape and characteristic nipple, Tetilla is characterized by its smooth, straw-colored rind. The cheese has few air pockets, and the texture of this thick, smooth product is soft and pasty. Expect it to be very creamy, almost buttery, on the palate with a flavor that's clean and mellow. It's not salty and melts easily in the mouth. Some theorize this cheese came from an 11th century convent, though evidence for this is inconclusive. Traditionally, the milk used in the production of this cheese is from the rubia gallega cow (the "Blonde Galician"). This breed produces small amounts of milk compared to other breeds and is known for its superior quality. Whole milk is used to make Tetilla, and each batch usually combines milk from several consecutive milkings. The cheese is aged, and the texture ranges from soft to firmer (semi-cured), depending on how long it's aged.
Wherever you go in Spain, from the vast, barren plains of Extremadura to the majestic beauty of the Sierra Nevada, you will find wonderful cheeses. At last count, there were more than 600 clearly defined types, many owing their individual nature to the newest varieties of indigenous sheep, cows, and goats that have developed over centuries. In 1988, aware that this marvelous heritage could easily be lost as a new generation of Spaniards turned its back on the tradition and moved to the cities, the government initiated an ambitious survey. Their aim was to catalogue every cheese made in Spain. Much of the survey was carried out on horseback and on foot in order to reach artisan cheesemakers in the isolated, mountain regions whose cheeses had been made for centuries but were unknown in the wider world. Recipes were compared, and a grand total of 81 distinct varieties of cheese were identified. A national quality control system, Denominacion de Origen (DO) was introduced. This organization regulates where a specific cheese must be made, which breed of animal must supply the milk, exactly how the cheese must be made, and what size and even shape it must be. It also details any distinguishing characteristics. Similar to the systems that exist in France and Italy, the DO protects producers and consumers from inferior or foreign copies. Only those cheeses that meet the criteria may carry the official stamp on the rind so consumers can be sure they're getting the quality they seek.
This cheese can be eaten any time of the day. Tetilla is also suitable for cooking, especially when used as a stuffing or in recipes that call for a melted cheese coating. It's wonderful to melt over plain or raisin bread. Try it tucked inside a baked potato or a frankfurter. Additionally, it can be served in thin slices, with cured serrano ham or chorizo and a glass of wine or dry sherry. Another suggestion is to serve it on slices of bread with roasted vegetables or artichoke hearts in oil.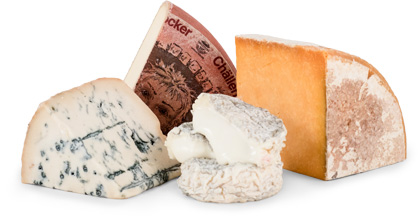 Experience International Variety
You might receive a Gaperon, originating in France during the 14th Century, an
authentic Lancashire by Ruth Kirkham, and an Italian Taleggio matured in the
caves of Valsassina…all in one shipment!
DISCOVER OUR TWO CLUBS