With an apt website tagline, "Cheese makers in the American South," one is immediately transported into the world of Sweet Grass Dairy, a dairy and cheese producer located in the southern Georgia town of Thomasville. The dairy, originally founded by Al and Desiree Wehner in the late 1970s, and now owned and operated by the second generation, daughter and son-in-law Jessica and Jeremy Little since 2005, Sweet Grass Dairy allows "cows to be cows." In other words, their cows are barn free and live humanely and sustainably on fresh grass 365 days per year. Twice daily, the cows are moved to fresh pasture that is cooled by a pivot system. This innovative, New Zealand style, rotational grazing system – combined with the region's milder climate – ensures the cows' optimal health, productivity, and longevity, as well as scrumptious, raw milk with which to create traditional, old-world cheeses which have won over 30 awards. If visiting downtown Thomasville, one will discover the Sweet Grass Cheese Shop, a combination retail and pub space, where the Littles showcase their cheeses, as well as serve food, beer, cocktails, and wine, with an emphasis on hospitality and community.
Sweet Grass Dairy produces six core cheeses and we are fortunate to offer the Thomasville Tomme as one of this month's selections. Their version of a French Pyrenées Mountains farmhouse Tomme is a semi-soft, grass-based, raw cows' milk cheese that is aged for 60 to 90 days. Reflective of its southern Georgia terroir, this cheese shows subtle earthy and grassy notes, as well as a creamy texture on the palate. Labeled as a "table cheese," this is a wonderful addition to a cheese or fruit platter. Pair this cheese with higher-acid, lighter red wines like Beaujolais (Gamay) or Burgundy (Pinot Noir), or a hoppy pale ale.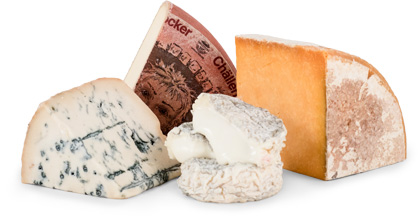 Experience International Variety
You might receive a Gaperon, originating in France during the 14th Century, an
authentic Lancashire by Ruth Kirkham, and an Italian Taleggio matured in the
caves of Valsassina…all in one shipment!
DISCOVER OUR TWO CLUBS