In 1928, a country cheesemaker started the St. André Creamery in Villefranche de Rouergue, France, the famed region that gives us Roquefort cheese. Approximately 40 years later, a soft-ripened, triple-cream cheese named St. André made its debut. With a taste described as a blend of the perfect brie mixed with equal parts of thick sour cream and whipped sweet cream, St. André is a cheese for the uncompromising connoisseur. This soft-ripened cheese has a bloomy, downy-white, edible rind with a smooth paste. Made from cow's milk and enriched with pure cream, St. André contains no less than 75% butterfat! St. André is fairly rare, a reason—in addition to taste—gourmands treasure the cheese.
Due to the addition of sweet cream, the intensity of flavors in St. André varies from pleasantly creamy to rich and buttery. Many connoisseurs describe it as being as lush, creamy, and rich as in the best cream cheese. To appreciate its nuanced flavors, we suggest indulging in this cheese at room temperature without the "distraction" of strongly flavored bread or crackers. Wait until the aftertaste of the cheese has set before taking a sip of wine or other accompaniments. No cheeseboard should be served without this sinful delicacy. St. André is beautifully paired with a light, fruity rosé or ale.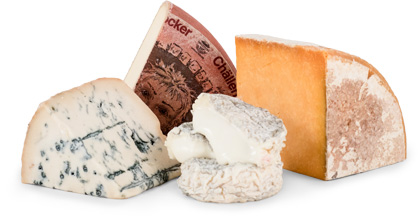 Experience International Variety
You might receive a Gaperon, originating in France during the 14th Century, an
authentic Lancashire by Ruth Kirkham, and an Italian Taleggio matured in the
caves of Valsassina…all in one shipment!
DISCOVER OUR TWO CLUBS