This month we are very excited to bring you a new cheese from a unique place that has a special mission: Spring Brook Farms. Located in the heart of Vermont, in Reading, Spring Brook Farms is a self-sustaining farm that has over 1,000 acres shared both by crops, such as wheat and sweet corn, as well as by a variety of farm animals including Jersey cows, goats, chickens, and pigs to name a few. To maintain their self-sustainability, they regularly sell organic fruits, vegetables, seasonal poultry, and honey from their bee farm, as well as two award winning cheeses from their registered 42 Jersey milking cows, which produce over 600,000 pounds of milk per year.
As amazing as that all is, what makes this place truly unique are the two programs they have for urban city kids – Farms for City Kids and City Kids Adventure Learning. These programs offer children, typically from the inner city and ranging in age from eight to twelve, the opportunity to apply skills like reading, math, writing, and social studies to hands-on farm tasks. Over a brief time, these everyday farming tasks help the kids develop teamwork and other core values of leadership, hard work, self-confidence, responsibility, and respect. Due to the learning environment being so different from their everyday lives, the teachings and values tend to stay with the kids over a lifetime.
Even though the kids are involved in the everyday aspects of the farm, the actual cheese making is left to the professionals; but, with an open kitchen, the master cheesemakers show the kids how the milk from the cows becomes award winning cheese, every step of the way. The cheese in your shipment today has won countless awards including a Silver Medal at the 2011 World Cheese Awards, 1st Place in class at the 2015 American Cheese Society, and 1st Place in category at the 2013 United States Cheese Championships. To learn more about the cheeses, the farm, and the kid programs, visit them at: www.farmsforcitykids.org.
Considered an alpine raclette style cheese, Reading is a semi-soft washed rind cheese made from raw cow's milk and aged between 3-5 months. Creamy in texture with a unique nutty and grassy flavor, Reading can stand on its own on any cheese board but really shines when it's melted. Extremely versatile, try it on burgers, mac and cheese, melted onto crusty French bread, or even as fondue! As always, please make sure the cheese is up to room temperature to enjoy the full flavor.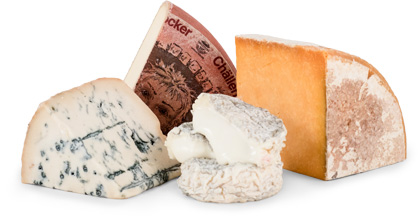 Experience International Variety
You might receive a Gaperon, originating in France during the 14th Century, an
authentic Lancashire by Ruth Kirkham, and an Italian Taleggio matured in the
caves of Valsassina…all in one shipment!
DISCOVER OUR TWO CLUBS