Founded in 1901 as a cooperative and the first cheese school in Austria, the present-day Sennerei Huban dairy still continues to function as a 34-member cooperative, with each member's average herd being just 15 Brown Swiss cows. Each of the co-op's farms are located within five kilometers of the dairy, where unquestionably happy cows graze on mountain pastures or hay year-round. Alp Blossom, featured this month, celebrates the diversity of the Alpine flora throughout the Hay Belt, an area that spans Southern Germany, Western Austria, and Eastern Switzerland. One look at its rind confirms that, as Alpine flowers and herbs from the fields where the cows graze are pressed artistically into the rind. The presentation is really quite stunning. Although produced and initially aged for six months at Sennerei Huban, Alp Blossom is then transported to a cave at Kaeskuche in Bavaria, where the dried edible flowers and herbs are added to the rind.
Upon opening each 10-pound, washed rind wheel of Alp Blossom, you will see an even distribution of small 'eyes' in a consistently creamy, buttery-yellow paste. The herbs and field blossoms make for a strong floral aroma which also influences the flavor of the cheese. The cheese has a dense, semi-firm texture, super creamy mouthfeel, and herbal and floral notes. It will not be hard to imagine what these cows were eating just before they were milked, because the grassy, floral notes are noticeable in every morsel. Alp Blossom's eye-catching appearance will be a stellar addition to any cheese plate, a guaranteed conversation piece to show off your cheese prowess. If you want to enjoy this cheese as the locals would, pair it with a glass of Bavarian beer such as Fürstenberg's Black Forest Pilsner featured in our U.S. and International Variety Beer Club. Wine matches include higher-acid, cool-climate offerings such as vintage Champagne, Crémant d'Alsace, or Crémant de Bourgogne; unoaked whites like chenin blanc, gewürztraminer, riesling, pinot blanc, or pinot gris; and lighter reds, gamay and pinot noir.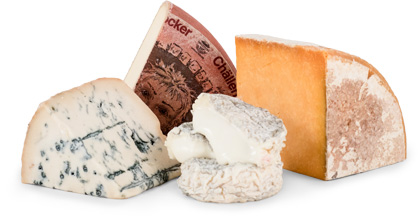 Experience International Variety
You might receive a Gaperon, originating in France during the 14th Century, an
authentic Lancashire by Ruth Kirkham, and an Italian Taleggio matured in the
caves of Valsassina…all in one shipment!
DISCOVER OUR TWO CLUBS