Selvatico is a pasteurized cow's milk cheese that hails from Veneto, Italy. The name in English means wild or untamed, which refers to its rustic Alpine beginnings. The milk comes from herds of cows that enjoy a diet of lush green grasses, flowering meadows, and an idyllic life in the mountain pastures of the Bavarian Alps – at an elevation of around 1100 meters or around 3600 feet, which is about twice the height of the Empire State Building. Once the milk is processed into cheese, it is aged for 17 months in the Val d'Astico of northeastern Italy under the care of a family of affineurs, led by head affineur, Claudio, who have been aging Alpine cheeses for over 50 years. This region's microclimate on the banks of the Astico river is ideal for cheese aging and helps give Selvatico an unrivaled complexity of aromas, flavors, and texture.
Selvatico is replete with herbal and rustic notes unique to its high-elevation terroir. Its long aging yields an intensely flavorful and dense cheese reminiscent of an aged gouda. It has a yellow, firm paste with a nutty, crunchy texture, but also possesses a distinct creaminess. This is a truly special cheese that is should be pulled out of the refrigerator for about 20 minutes and warmed to room temperature to bring out its best qualities – aromas and flavors like rich caramel and butterscotch alongside those of salty toasted nuts and ripe fruits.
The balance of sweetness and salinity makes Selvatico a showstopper on a cheeseboard or as a standalone dessert course. It can be melted on pies and dessert breads; an accompaniment to fresh figs, pears, grapes; and a match for salty foods like charcuterie, bacon, and olives. This duality of flavor makes this a versatile cheese that will pair with beers such as barleywines and India pale ales, porters, and stouts; wines like fruity Pinot Gris/Grigio, off-dry Riesling, Beaujolais, Chianti (Sangiovese), or Pinot Noir; and barrel-fermented and aged buttery-style Chardonnay. Also try dessert wines, such as sherry or port, or a sweet spirit like bourbon.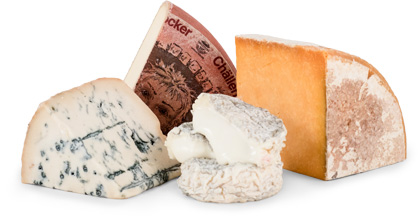 Experience International Variety
You might receive a Gaperon, originating in France during the 14th Century, an
authentic Lancashire by Ruth Kirkham, and an Italian Taleggio matured in the
caves of Valsassina…all in one shipment!
DISCOVER OUR TWO CLUBS