Good friends Mike Glauser and Jürg Wyss founded Jumi – a combination of their first names, Jürg and Mike – in 2006 to honor the cheesemaking tradition of the Glauser family in the Emmental Valley of Switzerland. The family's original Käserei Glauser dates back five generations, to when Mike's great, great grandfather began cheesemaking in 1896. For 85 years, from 1914-1999, the family was only allowed to produce Emmental cheese due to strict regulations set forth by the Schweizer Käseunion (Swiss Cheese Union). However, with the dissolution of the union in 1999, the Glausers expanded their cheesemaking portfolio to include Belper Knolle, Hansfmutschli, Sanglée des Couardises, and our selection of the month, Schlossberger Alt (Aged).
Today, Glauser and Wyss partner with approximately sixty local dairy farmers to make and age complex and unique cheeses. The largest partner farm milks just over 40 cows, so production remains very limited. The farmers transport fresh, warm milk to the dairy, morning and evening. The milk is never refrigerated, which results in optimal cheesemaking. The evening milk is inoculated with cheese cultures and allowed to ferment overnight, then it is combined with the milk that arrives the following morning. Within 24 hours, all the milk is made into cheese. Once only sold at farmer's markets across Europe, Japan, and the Borough Market Hall in the UK, these wonderful cheeses are now available in the United States.
We think Jumi's Schlossberger Alt (Aged) is one of the most complex and interesting cheeses in their lineup. This Alpine cheese made from raw cow's milk is produced in 60-pound wheels and aged for 18-23 months in caves near the ruins of Schlossberger Castle in the valley of Emmental, hence the name of the cheese. The longer aging allows for mature and integrated flavor development, resulting in a well-balanced and flavorful cheese. It has many of the same characteristics as other wonderful mountain cheeses like Comté, offering a rich, broth-like, nutty, and buttery flavor profile. Batches made during the winter months when the cows are eating hay will also exhibit a paler, brighter, and more crumbly character. The interplay of nuttiness and creaminess makes this cheese a match with cooler-climate, Burgundian-style whites and reds like Chardonnay and Pinot Noir. We loved this cheese and so will you!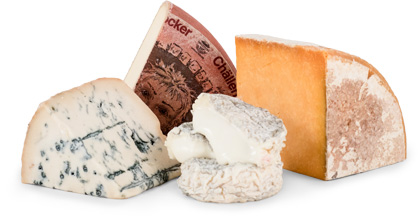 Experience International Variety
You might receive a Gaperon, originating in France during the 14th Century, an
authentic Lancashire by Ruth Kirkham, and an Italian Taleggio matured in the
caves of Valsassina…all in one shipment!
DISCOVER OUR TWO CLUBS