The award-winning Schallenberg from Gourmino is a very special offering made in the Emmentaler AOP (Appellation d'Origine Protégée) of Shallenberg, Switzerland, by master cheesemaker, Hansruedi Gasser, at a picturesque mountain dairy and shop named Oberei where he resides with his wife, Brigitte, and their two children. Oberei is a certified mountain cheese dairy, and Hansruedi, an Emmentaler AOP Käsere top ten producer in 2013, 2015, 2016, and 2017. Handcrafting only four wheels of cheese per day in the centuries' old, traditional method, and at approximately the same time, with careful, daily attention, Hansruedi produces cheese of the finest quality and consistency.
Made from raw, whole milk – and sometimes the addition of cream – from the cows of 16 specially selected dairy farmers and aged for a period of 10 to 16 months, Schallenberg showcases a flavor profile and creamy texture that becomes more and more pronounced as it ripens. These unique characteristics come from the milk of the cows here, who enjoy a diet of flowering meadows and an idyllic mountain life. Schallenberg's nuttiness, bread-and-butter qualities, and flavor of sweet, caramelized onions are reminiscent of a New York bialy with cream cheese. Pair this cheese with sweet white wines, such as a Riesling or ice wine, or a lighter red that will not overpower the flavor, such as Pinot Noir.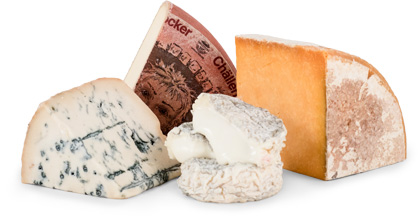 Experience International Variety
You might receive a Gaperon, originating in France during the 14th Century, an
authentic Lancashire by Ruth Kirkham, and an Italian Taleggio matured in the
caves of Valsassina…all in one shipment!
DISCOVER OUR TWO CLUBS