With typical American pride, the first cheese we're featuring this month is a parmesan cheese that, in 2009, was named the number one cheese produced in the U.S. (out of 1,336 entries) at the largest, longest-running cheese competition in the U.S. The United States Championship Cheese Contest goes back to the 1890s. SarVecchio Parmesan was named not just the best parmesan but the best of 64 different classes of cheeses and butters, including bries, blues, cheddars, muensters and more. SarVecchio has won many other awards. The cheese enjoyed a first place finish in the hard-grating cheese category at the prestigious 2007 American Cheese Society annual competition, which showcases the leaders in the burgeoning world of American artisan cheese.
SarVecchio is made by Master Cheesemaker Larry Steckbauer at Sartori Foods in Antigo, Wisconsin. Certified in Parmesan and Romano cheeses, Larry has refined his cheesemaking skills during a career that began in his hometown of Antigo thirty-five years ago. Sartori has local "patron farmers" who partner with them by supplying milk for their award-winning artisan cheeses. Many of them own family farms that have supplied Satori with milk for over 70 years. Milk destined to be SarVecchio never travels far from farm to cheesemaker.
SarVecchio Parmesan follows in the tradition of the greatest cheese of Italy. It's washed with olive oil and is then "extra-aged" – for at least 20 months. The result is an outstanding cheese with a crumbly texture and a salty, sweet and nutty flavor, interspersed with crystals that give it a bit of a crunch. These crystals, a product of the aging process, are found in many aged hard cheeses, giving them the name "grana" (grainy) cheeses. The interior is light gold interior, and the rind a slightly darker cream color.
This extraordinary Parmesan has a mellow flavor that's distinctively fruity with lighter notes of roasted caramel. While delicious grated into soup or sprinkled on pasta, polenta, or a Caesar salad, a parmesan of this caliber warrants being consumed solo. Literally. You may just want to cut pieces and consume. Or try SarVecchio with a baguette. Serve it with slices of fennel, thinly cut celery or black olives. For a simple and elegant dessert, consider drizzling it with honey and partnering it with dried figs, red grapes or pecans. Or enjoy it with squares of bittersweet, dark chocolate.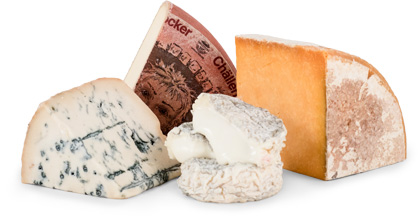 Experience International Variety
You might receive a Gaperon, originating in France during the 14th Century, an
authentic Lancashire by Ruth Kirkham, and an Italian Taleggio matured in the
caves of Valsassina…all in one shipment!
DISCOVER OUR TWO CLUBS