The Sartori Company is fourth-generation family owned and operated, and based in Plymouth, Wisconsin. Co-founded in 1939 by Paolo Sartori and Louis Rossini, the company was originally known as S&R Cheese Corporation. Rich with history, the company received not one but two U.S. patents in the 1940s thanks to Paolo Sartori, one for a "Cheese Curd Machine" and another for a "Curd Mixing and Kneading Machine." In 1953, Paolo's son Joe Sartori and his next door neighbor Leonard Gentine started the Sargento Cheese Company. After selling his interest in Sargento in 1965, Joe later became the first person in the United States to export cheese to Italy and Japan in 1970 from the S&R Cheese Corp. Soon after changing the name from S&R Cheese Corp. to Sartori Foods in 1996, BellaVitano cheese was introduced, a variant of which is the award winning cheese you have in your shipment today!
Our featured Sartori Reserve Espresso BellaVitano has won numerous awards including gold medals at the 2014 World Cheese Awards and the 2014 International Cheese Awards, Best Cheese at the 2012 Dairy Innovations Awards, and most recently, third place at the 2016 World Championship Cheese Contest. The base cheese, Sartori Gold, is also a multi-gold winner in its own right, and is a unique creation of Sartori, inspired by the farmhouse cheeses of Italy.
Aged approximately 12 months, this scrumptious semi-firm cheese starts with Sartori's gold medal winning BellaVitano Gold, which is then hand-rubbed with freshly ground espresso. Once you bring it to room temperature, this savory cheese is rich, creamy, nutty, and fruity, with hints of sweetness that make it a perfect after dinner treat, or even an addition to your breakfast! It's also great for snacking and will do wonders on your cheese board. We also found that it pairs great with Merlots and Pinot Noirs, as well as darker beers such as stouts and porters.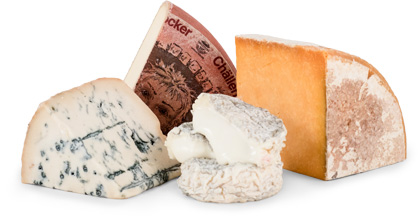 Experience International Variety
You might receive a Gaperon, originating in France during the 14th Century, an
authentic Lancashire by Ruth Kirkham, and an Italian Taleggio matured in the
caves of Valsassina…all in one shipment!
DISCOVER OUR TWO CLUBS