Sapore Mitica® is another Italian cheese from the same area as Ubriaco del Piave – the Piave River in Treviso, Veneto – and by the same cheesemaker, Sergio Moro, one of the finest makers of Sottocenere. Sapore del Piave as it is sometimes called – which means Flavor of Piave in Italian – originated in the 1960s, produced by a partnership of third-generation cheesemakers and a cooperative of dairy farms in the area of Oderzo, Italy.
Made from pasteurized cow's milk and aged for 16 months, Sapore Mitica is similar to a young Parmigiano Reggiano: buttery, with loads of fruitiness, nuttiness, and a delicious crunchiness from tyrosine crystallization, the clumping together of moistureless protein crystals (tyrosine). Add this cheese to your favorite baking recipes, pasta dishes, pizza, and cured-meat sandwiches, as well as to party platters with salty charcuteries, nuts, and olives. The Sapore's similarity to Parmigiano makes it an ideal accompaniment to Italian sparkling, white, or red wines, like the sparkling Franciacorta DOC and Trento DOC, Pinot Grigio, Amarone della Valpolicella, Barbera, and Corvina. For those who prefer beer, we suggest a lager, so as to not overwhelm the cheese's flavors.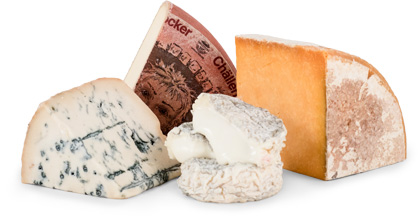 Experience International Variety
You might receive a Gaperon, originating in France during the 14th Century, an
authentic Lancashire by Ruth Kirkham, and an Italian Taleggio matured in the
caves of Valsassina…all in one shipment!
DISCOVER OUR TWO CLUBS