Arguably the most iconic cheese being made in in the foothills of the Pyrenees in Spain's Catalonia region, Garrotxa, also known as Pell Florida, is a firm cheese that is produced from the pasteurized milk of Murciana goats and aged in caves for three to six months. Garrotxa nearly went out of production completely and was for the most part extinct in the late 1970s, when a number of younger, eager cheesemakers formed a cooperative and began producing it again in the Garrotxa area of Catalonia (Cataluña in Spanish) in 1981.
Cheesemaker Josep Martí crafts Garrotxa in Albió, a small town perched on top of a hill. Sant Gil d'Albió, originally founded by Josep's father Nati Ninot, is a small family owned and operated dairy that has been producing artisan cheeses for more than 30 years. A truly nano artisan cheese producer with only 12 employees, the family specializes in making matured goat's milk cheeses from Murciana goats, which are known to produce a dense, rich, high fat content, and very aromatic milk.
Garrotxa de Sant Gil d'Albió is a subtle charmer, offering a clean, salty, slightly acidic, yet also delicate palate that balances the milk's sweetness nicely. The aroma offers cooked, enzymatic curds; moist, mineral notes; and a distinct herbaceous quality. The paste is a brilliant white. The rustic, bloomy rind, formed by a fungus, helps sweeten the cheese by neutralizing its acidity. The rind has a suede-like texture and distinctive gray mold, which makes it not ideal for eating. Enjoy this cheese's long, smooth finish replete with nutty and herbal flavors. This mild cheese is a solid table cheese and will be a great addition to any cheese board. We suggest crumbling it over salads, eating it with a crusty farmhouse bread accompanied by nuts and tree fruits such as pears or apples, or adding it to cooked recipes to flavor most dishes calling for cheese as a topping. It will also pair nicely with Blanc de Blancs sparkling wines; medium-bodied whites like chardonnay, pinot gris, or Rhône-style varieties (viognier, marsanne, roussanne); and dessert-style wines such as sherry, port, or madeira. Or, try a sparkling ale such as CaliCraft Brewing Company's Reserve Series Rosé, made with zinfandel must and raspberries, as featured in The Rare Beer Club.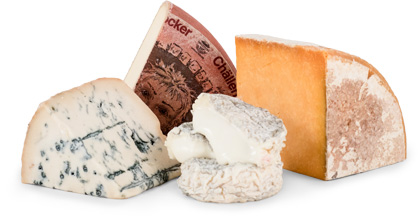 Experience International Variety
You might receive a Gaperon, originating in France during the 14th Century, an
authentic Lancashire by Ruth Kirkham, and an Italian Taleggio matured in the
caves of Valsassina…all in one shipment!
DISCOVER OUR TWO CLUBS