In the region of Galicia located in remote, northwest Spain, surrounded by both the Atlantic Ocean in the north and west and the mountains from the Atlantic to the Mediterranean coast, San Simón da Costa cheese was born. Its origins remain uncertain. Some believe the cheese has been around since Roman times, while others think that farmers' housewives began making the cheese for home consumption in the early 20th century, primarily from the Galician Blonde breed of cows. San Simón da Costa grew progressively more popular through the decades, so much so that producers greatly increased production beyond small family farms and began international distribution. In 1990, San Simón da Costa was granted DOP – Denominación de Origen Protegida – classification, to ensure the continuance of tradition, consistency of production such as length and type of aging, and the highest standards of quality.
We are honored to share with you an example of San Simón da Costa that is still handcrafted using traditional cheesemaking methods. Visually, the cheese is instantly identifiable by the unique shape of its mold, large cones that resemble cow's teats. Our fourth-generation cheesemaking family, Javier and Sonia Pineiro – along with their four employees – still make their award-winning San Simón da Costa adjacent to their home in another small building on their property in Lugo, Galicia, using pasteurized cow's milk sourced from local dairy farms.
The distinctiveness of this pliable, semi-soft cheese is not only its aging – 55 days – but that it is smoked for approximately 90 minutes over branches of green Abedul birch that come from trees on the Pineiros' property. The smoking process affects all aspects of San Simón da Costa, including its coppery-colored natural rind, pale gold paste, wood-fire aroma, and subtle smoky notes. Its acidity, delicateness, and butter-like creaminess make it a great cheese for a Spanish chorizo, jamón, and cheese platter, as well as a melting cheese for fondue and sandwiches. Pair San Simón da Costa with wines from Galicia: whites like Albariño, Godello, and Ribiero; dry styles of sherry such as Fino, Manzanilla, Palo Cortado, or Oloroso; and sparkling beverages like Cava and cider.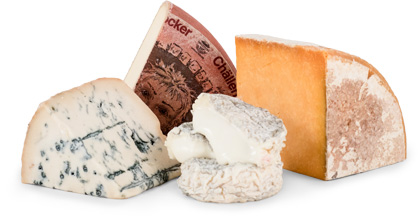 Experience International Variety
You might receive a Gaperon, originating in France during the 14th Century, an
authentic Lancashire by Ruth Kirkham, and an Italian Taleggio matured in the
caves of Valsassina…all in one shipment!
DISCOVER OUR TWO CLUBS