No, this saga is not a prose narrative written in Iceland between 1120 and 1400 dealing with the families that first settled Iceland and their descendants. Nor is it a history of the kings of Norway or the myths and legends of early Germanic gods and heroes. Our saga is a wonderful culinary delight you'll be proud to share this holiday season. It's smoother, creamier and milder than a typical blue, so even folks who think they don't like blue cheeses because they're "too strong" may find themselves craving more. The cheese we bring you is produced by a blue-cheese only manufacturer in Mindoro, Wisconsin. The small creamery, which only has about 20 employees, is run by Danes to make a product the way generations of their ancestors have.
Saga Blue Brie has a delicate blue cheese flavor and a softer—almost spreadable—texture than a typical Danish style blue cheese. The cheese is great in salads and as a snack cheese. As mentioned earlier, Saga Blue Brie can be a great transition cheese for lovers of milder cheeses who have yet to learn to appreciate the stronger blue cheeses. It is an excellent cheese in salads; consider blending it into a vinaigrette salad dressing. Serve it with crackers as an appetizer. It's also an excellent dessert cheese that should be served with fruit or even bubbly—after all, it is the holiday season. Here's to yours!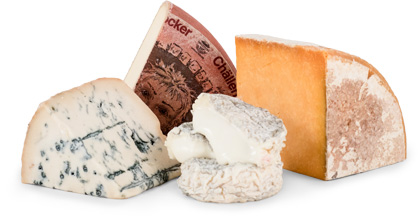 Experience International Variety
You might receive a Gaperon, originating in France during the 14th Century, an
authentic Lancashire by Ruth Kirkham, and an Italian Taleggio matured in the
caves of Valsassina…all in one shipment!
DISCOVER OUR TWO CLUBS