In "cheese years," Rustico Red Pepper is relatively new. It's a flavor variation of a basic Italian cheese that's made simply and made well. There has always been a tradition of adding spices and other ingredients to fresh cheeses and this one—which adds red pepper to Cacio de Roma—came about in the late 1890's. Cacio de Roma, a creamy, young pecorino cheese, is made from 100% sheep's milk in the countryside outside of Rome. Typically these semi-soft classic table cheeses are aged on wood in cellars about one month. It's softer than Muenster and holds its shape better than Mozzarella. Rustico Red Pepper is made from the same base—in other words, it's the same cheese—with the addition of crushed red pepper. Italians like their red pepper with their pasta, and apparently a farmer got creative and discovered they like it with their cheese, too! Once the cheese obtains its form and some texture, it is bathed in sea salt for twenty-four hours prior to aging.
When you taste this selection, you'll note that the red pepper enhances the cheese without overwhelming it. There are numerous ways to enjoy it. Rustico melts quite nicely and lends itself to polentas, pizzas, and panini. Most non-Italians would find it such an unusual, interesting cheese, you may want to feature it on a cheeseboard. If you're having a party, consider simply cubing it and setting it out with toothpicks.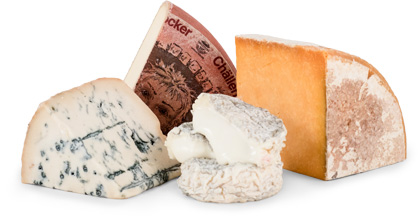 Experience International Variety
You might receive a Gaperon, originating in France during the 14th Century, an
authentic Lancashire by Ruth Kirkham, and an Italian Taleggio matured in the
caves of Valsassina…all in one shipment!
DISCOVER OUR TWO CLUBS