Founded in 1863, Roth Cheese is a Wisconsin-based family owned and operated dairy that has been crafting award-winning artisan cheeses for more than 150 years. Roth is proudly inspired by their Swiss heritage, producing cheeses from locally sourced fresh milk, always 100% hormone free. They are, and have always been, a hands-on operation during every step of the cheesemaking process, from cutting the curd, washing the rind, and hand-rubbing the herbs and spices.
Moody Blue is a bold, yet approachable classic blue which will resonate with many people. Roth likes to boast that it consistently turns blue cheese skeptics into connoisseurs and blue cheese lovers into diehards. It is crafted in small batches with fresh, pasteurized milk from local Holstein and Jersey cows.
Smoked over fruit wood, this pale-yellow, blue-veined, mouthwatering cheese is super velvety on the palate with prominent smoky aromatics. In addition to the characteristic smokiness, this cheese also reveals flavors of coffee, roasted nuts, and bacon. The soft, creamy finish of Moody Blue seems to almost evaporate on one's tongue. It is a wonderful accompaniment to smoked meats, as well as sweet treats like maple syrup, honey, and dark chocolate. It is also incredible melted on roasted vegetables like mushrooms, asparagus, red peppers; a juicy steak; or cheeseburgers. It will round out any cheese plate and is a flavorful topping for salads as well. Moody Blue will pair well with red blends from Côtes du Rhône, Bordeaux-style reds, merlot, or a bold zinfandel like the 2014 Pedroncelli Mother Clone Dry Creek Zinfandel featured in The International Wine of the Month Club's Premier Series. Other classic blue cheese wine pairings include Sauternes, late-harvest wines like Riesling Spätlese, and fortified reds like port. For our beer fans, we recommend Belgian lambics, roasted porters, and imperial stouts.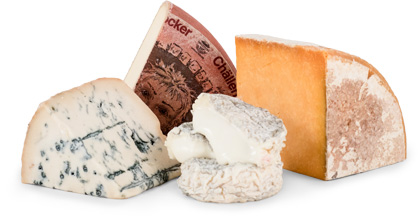 Experience International Variety
You might receive a Gaperon, originating in France during the 14th Century, an
authentic Lancashire by Ruth Kirkham, and an Italian Taleggio matured in the
caves of Valsassina…all in one shipment!
DISCOVER OUR TWO CLUBS