Roth Cheese has a rich history of cheesemaking, starting in 1863 when twenty-year-old Oswald Roth from Niederbipp, Switzerland, started O. Roth & Cie., which specialized in the production and exportation of Emmentaler. Over the years, his business expanded by exporting throughout Europe, South America, and the United States. In 1911, Oswald's son, Otto, immigrated to New York City and founded a subsidiary of his father's cheese company, Otto Roth & Company. By the mid-1970s, the business had become the largest specialty cheese importer & distributor in the United States, and was eventually sold to General Foods in 1983. In 1990, cousins Felix Roth and Fermo Jaeckle began scouting for locations to bring the Swiss business to the States, eventually settling on Monroe, WI due to the area's Swiss heritage and cheesemaking tradition. With their background in Swiss cheesemaking, the newly founded Roth Käse USA naturally focused on Swiss-inspired cheeses.
Merging with Emmi AG in 2010 to make Emmi Roth USA, they continue to make waves in the cheese world with world-class offerings, and they have a bevy of awards to prove it. One of those cheeses that has won numerous awards is Buttermilk Blue®, which is in your shipment today. Buttermilk Blue is made in small batches using only the freshest and highest quality milk which, as with all of Roth's cheeses, is 100% rBST-free and produced by local dairy farmers. The result has been numerous awards including Best In Class at the World Cheese Championships in 2014, 2nd Place at the U.S. Championship Cheese Contest in 2017, and a Bronze at the World Cheese Awards in 2016, just to name a few.
Buttermilk Blue is all natural and made with cow milk, is gluten-free, and is made with vegetarian rennet. Unlike most blue cheeses, Buttermilk Blue uses a higher butterfat content, resulting in a smoother and creamier texture. Matured in Roth's cellars for at least two months, it's delicately laced with blue veins, and is tangy yet mellow. Pair it with raw veggies, figs, pears, and dark choclate, or even enjoy it alone on your cheese board. It's also great for cooking and it crumbles easily to make a perfect addition to salads, pizzas, dips, and burgers. It will also pair well with sweeter wines and dark, yeasty beers, as well as gin. As always, allow it to come up to room temperature before enjoying to get the full flavor.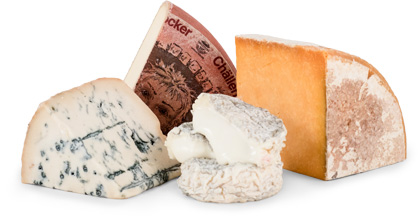 Experience International Variety
You might receive a Gaperon, originating in France during the 14th Century, an
authentic Lancashire by Ruth Kirkham, and an Italian Taleggio matured in the
caves of Valsassina…all in one shipment!
DISCOVER OUR TWO CLUBS