Raised outside of Toledo, Spain, Fátima's passion for cheese began at a young age when she would often accompany her father while he was making cheese from their animals. Inquisitive, she asked many questions about the process and soon was infatuated with cheese and the cheesemaking process. Her father, as well as some other local farmers, eventually set up a cheese cooperative and she soon began working a variety of jobs before becoming the right-hand woman to the master cheesemaker where she perfected her skills and craft. Soon afterwards, she took over a small dairy and started creating her own sheep, goat and mixed cheeses including Romao, the cheese in your shipment today.
Visually stunning, this artisanal cheese is from the historic and autonomous community of Castile-La Mancha in central Spain, specifically, Cuenca, which is near where Fátima grew up in Toledo. Romao is the lesser known cousin of Manchego, which is traditionally the cheese made in the region. The cheese itself is made from 100% raw sheep's milk, and what makes Romao so special is the unique rind which is hand rubbed with Ibérico lard and fresh rosemary, then aged in its own cellar for at least 8 months.
Romao has a similar texture to its cousin, Manchego, but with more herbaceous and piney notes due to the unique rind. The rosemary is always fresh and whole leaf; it is never dried or chopped, so there is never a bitter taste to the cheese. This melds wonderfully with the rich and buttery Ibérico lard giving the cheese an incredible flavor. Like its cousin, this cheese truly shines on its own, so it works beautifully on a cheese board with cured meats and almonds or with fresh crusty bread with olive oil and tomatoes. For drinks, pair it with a chilled mineral-forward white or Provencal rosé.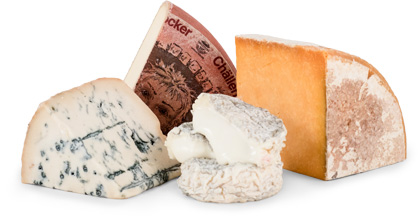 Experience International Variety
You might receive a Gaperon, originating in France during the 14th Century, an
authentic Lancashire by Ruth Kirkham, and an Italian Taleggio matured in the
caves of Valsassina…all in one shipment!
DISCOVER OUR TWO CLUBS