Although Redhead Creamery has now been crafting artisan cheese since 2013, the dream of owning and operating a creamery was a longtime goal of the founder and cheesemaker, the red-headed Alise Sjostrom, since she was a teenager. In fact, she was so determined that in college she developed her own cheese and dairy curriculum at the University of Minnesota, and also studied at the Vermont Institute for Artisan Cheese. Her passion for cheesemaking earned her the nickname "Cheese Alise." Today, Sjostrom is living her dream in Brooten, Minnesota, thanks to a little financial help from a Kickstarter fundraiser, making her cheese at her very innovative and sustainable family dairy farm and creamery. Redhead Creamery and Jer-Lindy Farms, originally founded by her parents, Jerry and Linda Jennissen, and today led by Sjostrom and her husband, Lucas, also offers farm visits, creamery tours, private event hosting, sample cheese tastings, as well as the opportunity to enjoy a cheese and pint pairing in the cheese shop.
Because Redhead Creamery is a farmstead, the milk could not be any fresher, as the team has complete control over the cows' feed, the cows themselves, the milk they produce, and the resulting cheese. The cows' milk is pumped directly from the milking parlor via stainless steel pipeline through an underground tunnel into the cheesemaking area, where the process begins. This eliminates transportation between a farm and a creamery, which is more productive with regard to energy and effort, as well as rendering an even fresher cheese of the highest quality. A cool fact about the farm's cows is that some are named after contributors to Sjostrom's Kickstarter fundraiser.
One of our team members recently met Sjostrom at a food safety seminar and it was there that we learned more about this month's selection, Little Lucy, a bloomy rind, brie-style cheese made from pasteurized cows' milk and aged for four to 14 weeks. Named for Sjostrom's young daughter, Little Lucy is as precious as its namesake, with a rich, buttery flavor profile and a clean mouthfeel. This cheese, again like her namesake, possesses a delicate sweetness. Enjoy this luscious gem of a cheese with friends and family, as it is ideal for sharing. Little Lucy cheese can be paired with lots of fun condiments like grape must mustard, fruit compotes, or even preserves with a kick, like a jalapeño jelly, if you like a little spice. Just add flatbread crackers or a crusty French baguette, a glass or two of local, higher-acid Minnesota wines like Edelweiss, Frontenac, or St. Croix – or wines such as Blanc de Blancs Champagne or similar sparkling wine, Beaujolais (Gamay), or Burgundy (Chardonnay and Pinot Noir), and voilà, you have a simple, yet delectable foodie party with friends.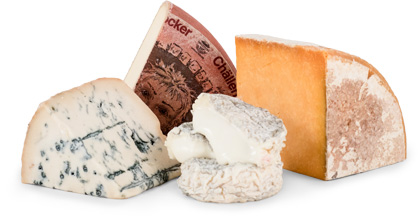 Experience International Variety
You might receive a Gaperon, originating in France during the 14th Century, an
authentic Lancashire by Ruth Kirkham, and an Italian Taleggio matured in the
caves of Valsassina…all in one shipment!
DISCOVER OUR TWO CLUBS