Leicestershire Handmade Cheese Company is located on a working dairy farm called Sparkenhoe Farm, in Upton, a small hamlet in the South West Leicestershire countryside of England. The owners, David and Jo Clarke, are dairy farmers whose families have farmed in the area for many generations. David manages the 150 head of pedigree Holstein Friesian cows, all lovingly named—among them Wendy, Greeta and Hyacinth. They're fed on the farm's lush pastures, being milked at 5 a.m. and 4 p.m. Calving takes place year round to keep the milk supply as consistent as possible. (For our non-farmer readers, typically calving is seasonal.) Red Leicester has a long history with Sparkenhoe Farm. In 1745, it was made by Mr. George Chapman, who was said to have had "one of the best herds of longhorns known anywhere, including two prize winning bulls 'Old Sparkenhoe' and the 'Earl of Upton.'" The Chapmans ceased cheese production in 1875 but the cheese continued to be made until the 1950's, when, like so many traditional hand made cheeses, the process succumbed to industrialized methods and went by the wayside. David and Jo started making their traditional Red Leicester Cheese in November 2005, using milk produced from their own cows. It is the only Leicester still made in Leicestershire. They discovered an old recipe and they follow it—making "Sparkenhoe" in a totally authentic way. To give the cheese its rich color, they add annatto (a natural plant dye obtained from annatto seeds, also known as achiote, which is used primarily in Mexican and Caribbean cooking to impart a rich yellow/orange color). The curds and whey are then scalded gently and separated. The curds are then cut into blocks and turned to release further whey before being put through a mill. After adding salt, the cheese is put into molds and pressed for 24 hours, then turned and pressed for another 24 hours before being bound in cloth to mature for four-and-a-half months. The cheeses, as is traditional, are shaped into large wheels weighing 10 kg. and 20 kg.
Red Leicester's texture is firm and smooth with a relatively high moisture content that's evenly distributed throughout the wheel. The deep, full, pleasing flavors are offset by a slight citrus tang that lingers through to the finish. It's a beautifully balanced cheese that pairs wonderfully with a variety of wines, both white and red. Try it with a Spanish Rioja! If beer is your preference, a brown ale would complement it well.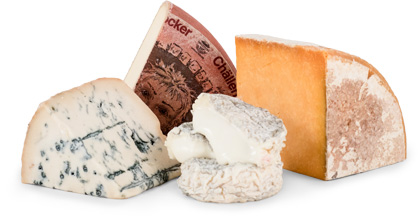 Experience International Variety
You might receive a Gaperon, originating in France during the 14th Century, an
authentic Lancashire by Ruth Kirkham, and an Italian Taleggio matured in the
caves of Valsassina…all in one shipment!
DISCOVER OUR TWO CLUBS