Swiss Cheese, Chicken And Crab Crepes
Crepe batter:
2 eggs
1/8 teaspoon salt
1 cup milk
1 cup all-purpose flour
4 tablespoons (1/2 stick) unsalted butter, melted
Filling:
5 tablespoons (2/3 stick) unsalted butter, separated
5-6 shallots, peeled and thinly sliced
1/4 pound (1/2 cup) fresh mushrooms, sliced
3 tablespoons all-purpose flour
1 cup chicken broth
1/4 cup light cream
1/4 cup dry white wine or 1/4 cup additional chicken broth
1 cup cooked, shredded chicken breast
1 cup cooked, shredded crabmeat
1/2 cup (2 ounces) Parmesan cheese, grated
1/4 teaspoon dried rosemary
1/2 teaspoon salt
1 cup (4 ounces) Swiss cheese, grated
Parsley sprigs
Crepes: Combine all ingredients in a blender; blend for 1 minute. Scrape down sides and blend for another 15 seconds or until smooth. Refrigerate at least 1 hour. Heat a lightly oiled griddle, skillet or crepe pan. Pour or spoon 3-4 tablespoons of batter in pan and spread out to form a round, 6-inch crepe. Brown lightly on one side only. Stack crepes between layers of waxed paper and set-aside until ready to be filled and rolled. (Makes 16 crepes.)
Filling: Melt 2 tablespoons butter in a large saucepan. Add shallots and mushrooms; sauté until limp. Stir in remaining butter until melted. Gradually add flour, one tablespoon at a time; cook and stir until bubbly. Gradually stir in broth, cream, and wine or chicken broth. Cook over medium heat until thickened. Add chicken, crabmeat, Parmesan, rosemary, and salt; mix well.
Assembly: Preheat oven to 400° F. Fill crepes browned side down and roll, placing them seam side down in a buttered 9x13-inch baking dish. Top with Swiss cheese and bake 20 to 30 minutes. Garnish with parsley. Makes 8 servings.
Swiss Cheese And Vegetable Pie
1 cup each onion and zucchini (sliced)
1 tablespoon butter
salt and pepper
2 tablespoons flour
6 oz. Swiss cheese (1-1/2 cups shredded)
1 9-inch pastry crust (pre-baked)
2 eggs (beaten)
1 cup half and half
Sauté onion and zucchini in butter in skillet until tender, about five minutes; season with salt and pepper and stir in flour. Cool; toss with cheese and arrange in bottom of crust. Mix eggs and half & half; pour into crust. Bake at 350° F until pie is browned and set, 40-45 minutes. Servings: 6.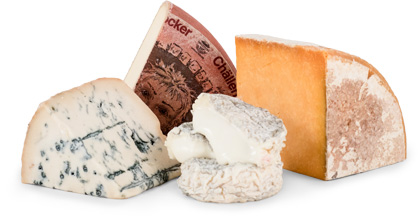 Experience International Variety
You might receive a Gaperon, originating in France during the 14th Century, an
authentic Lancashire by Ruth Kirkham, and an Italian Taleggio matured in the
caves of Valsassina…all in one shipment!
DISCOVER OUR TWO CLUBS
Responsive Customer Service
Our friendly and knowledgeable customer service team will help you with any questions. You may also place orders over the phone.
Mon-Fri, 7am - 4pm Pacific
Rated Customer Service
Assuring satisfaction to over 1,000,000 CUSTOMERS since 1994 has earned us an
rating from the BBB. A BBB Accredited business since 10/05/2005
View Our Profile
100% Satisfaction Guarantee
Our 100% satisfaction guarantee ensures that every item you purchase at Gourmet Cheese of the Month Club meets your high standards or we will replace it or refund your purchase.