All Wisconsin Cheddar and Beer Soup
1 cup (2 sticks) butter
1/2 cup finely chopped onion
1/2 cup finely chopped celery
1-1/2 cups flour
2 quarts beef broth, homemade, canned or made from bouillon
2 cups milk
1 cup beer, preferably flat (or substitute additional 1 cup broth)
2 teaspoons liquid smoke
1 teaspoon hot red pepper sauce
3 tablespoons Worcestershire sauce
12 ounces (3 cups) shredded sharp Wisconsin Cheddar cheese
1/2 cup finely chopped parsley
In a stockpot, melt the butter. Sauté the onion and celery in the butter, until soft – not brown – about 5 minutes over moderate heat. Stir in the flour and heat, stirring, for about 5 minutes over medium low heat. The mixture will bubble as it cooks. Do not let the flour stick or turn brown. Slowly add the stock, a little at a time, stirring to smooth the mixture. Add the milk, stirring. Stir in beer, liquid smoke, hot red pepper sauce and Worcestershire sauce. Bring just to a boil. Remove from heat, add the cheese and stir until melted. Return to heat (do not let the soup boil). Stir in the parsley. Heat a few minutes, just below boiling, to let the flavors blend. Taste for seasoning, adding more of the sauces if you wish. Serve immediately or keep warm over very low heat. Serves 10.
Broccoli And Cheese Soup
Olive oil
2 onions
6 medium potatoes
1 pint water/stock
2 heads of broccoli
8 oz cheddar cheese
salt, pepper, herbs and spices
Heat oil; soften 2 onions and 6 medium potatoes. When yellowish, add about 1 pint of water or stock and one head of broccoli (broken into florets), salt and any herbs/spices you fancy. Cook for about 20 minutes at a fast simmer. Add another head of broccoli in florets, simmer for another 2-3 minutes. Remove from pan while new broccoli is still crunchy and liquidize.
Add about 8 ounces grated mature cheddar to the serving dish and stir until it melts - top with lots of freshly ground pepper. Serve with fresh brown bread.
Cheddar Cheese Soup and Rosemary Cheese Straws
2 oz butter
½ tsp paprika
1 large onion, chopped salt and pepper
4 stalks celery, chopped
chopped parsley, to garnish
1 clove garlic, crushed
rosemary cheese straws
1 medium potato, diced
8 oz frozen puff pastry
1 pint vegetable stock
3 oz British Mature Cheddar, grated
1 tsp finely chopped fresh or dried rosemary
To make the cheese straws roll out the pastry to a large rectangle, about 10x8", scatter over one-third of the British Mature Cheddar on one half of the pastry and a little of the rosemary. Fold over then press lightly to seal, roll out and repeat the procedure twice, but on the final rolling form the pastry into a rectangle 7" wide and about 12" long. Cut into ½" strips, twist each a few times and place on 2 baking sheets, refrigerate. Heat the oven to 400° F. For the soup, melt the butter in a large pan, add vegetables, cover and cook gently for 10 minutes. Add stock and paprika, cover and simmer for 15 minutes. Bake the cheese straws in the oven for 8-10 minutes until crisp and golden. Puree the soup in a blender, return to the pan, season, then stir in 4 oz of the Mature Cheddar, reheat gently, but do not allow to boil. Ladle the soup into four bowls, garnish with the remaining cheese and chopped parsley, and then serve with cheese straws. Serves 4.
Farmer's Cheese Soup
1 cup finely chopped onion
1 cup chopped celery
3/4 cup sliced carrot rounds
1/2 pound broccoli, separated into small flowerets (about 2-1/4 cups)
3 cups milk
1 cup (4 oz.) cheddar cheese
6 to 8 slices French bread, toasted
Swiss cheese cut into thin wedges; two for each slice of bread
4 slices bacon, cooked and crumbled
Melt butter in 3-qt. saucepan. Add onion and celery. Stir and cook 5 minutes. Add carrots, broccoli and broth. Cover and bring to a boil, then turn to simmer and cook for 15 minutes or until vegetables are tender. Add milk, bring to a simmer. Add cheese, stirring until melted. Pour soup into a casserole. Float bread slices on top of soup and cover each with two wedges of Dakota Farms Swiss cheese. Place under broiler for 2 to 3 minutes until the cheese melts and turns a delicate brown. Sprinkle with crumbed bacon and serve. Makes 7 cups.
Jalapeno Cheese Soup
6 cups chicken broth
8 celery stalks
2 cups diced onion
3/4 tsp garlic salt
1/4 tsp white pepper
2 lb Velveeta cheese
1 cup diced jalapeno peppers
Sour cream
Flour tortillas
Dice celery stalks, onions and jalapenos. Cut Velveeta into cubes. In a large saucepan place the chicken broth, celery, onions, garlic salt, and white pepper. Cook over high heat for 10 minutes or until mixture reduces and thickens slightly.
In a blender or food processor place the broth and the cheese. Puree them together until the mixture is smooth. Return the pureed mixture to the saucepan and simmer it for 5 minutes. Add the diced peppers and mix them in well. Serve with a dollop of sour cream and warm flour tortillas. Serves 6.
Jarlsberg Cheese And Broccoli Soup
1 cup chopped leek
1-2 cups mushrooms, chopped
2-3 tablespoons margarine
1-2 tablespoon flour
3 cups chicken broth
1 bunch broccoli, in florets
1 pint half and half
1 cup shredded Jarlsberg cheese
Sauté leek and mushrooms in margarine till tender. Add flour and heat one minute more till bubbly. Stir in broth till thick. When heated, add broccoli. Simmer 20 min. until tender. Add half and half (less if you want) and cheese. Stir till cheese is all melted. Good with a good loaf of French bread.
Blue Velvet Soup
1 cup finely chopped carrots
1 cup finely chopped celery
½ cup minced onion
2 tablespoons butter or margarine
1 tablespoon flour
1 cup milk
8 ounce package cream cheese
13 ½ ounce can chicken broth
8 ounces blue cheese, crumbled
1 tablespoon chopped parsley
In a saucepan, sauté carrots, celery and onion in butter until tender. Blend in flour. Gradually blend in milk and cream cheese until smooth. Add broth, blue cheese, and parsley. Heat and serve hot. Yield: About 5 ½ cups.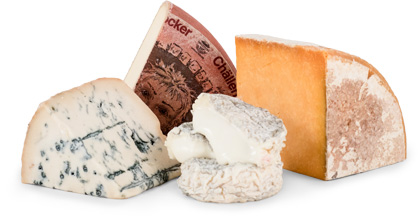 Experience International Variety
You might receive a Gaperon, originating in France during the 14th Century, an
authentic Lancashire by Ruth Kirkham, and an Italian Taleggio matured in the
caves of Valsassina…all in one shipment!
DISCOVER OUR TWO CLUBS
Responsive Customer Service
Our friendly and knowledgeable customer service team will help you with any questions. You may also place orders over the phone.
Mon-Fri, 7am - 4pm Pacific
Rated Customer Service
Assuring satisfaction to over 1,000,000 CUSTOMERS since 1994 has earned us an
rating from the BBB. A BBB Accredited business since 10/05/2005
View Our Profile
100% Satisfaction Guarantee
Our 100% satisfaction guarantee ensures that every item you purchase at Gourmet Cheese of the Month Club meets your high standards or we will replace it or refund your purchase.