Beer - Cheese Bits
2 cups Bisquick baking mix
1/2 cup shredded cheddar cheese
2 tablespoons melted butter/ margarine
1/2 cup beer
Sesame/poppy seeds
Heat oven to 450° F. Mix baking mix, cheese and beer until soft dough forms; beat vigorously; 20 strokes. Gently smooth dough into ball on floured cloth board. Knead 5 times. Roll dough into rectangle, 16 x 10 inches. Cut into 2-inch squares, cut squares diagonally into halves. Spread with melted margarine/butter; sprinkle with sesame seeds. Separate and place on ungreased cookie sheets. Bake until brown, about 8 minutes. Yield: 1 serving.
Beer Cheese Bread
1 package yeast
3 cups bread flour
1 tablespoon sugar
1 1/2 teaspoons salt
1 tablespoon butter
10 ounces beer, room temperature
4 ounces processed American cheese
4 ounces Jack cheese, cubed
Warm beer and American cheese over low heat on top of stove or in microwave. Cheese doesn't need to melt completely. Stir. Add all ingredients listed, select white bread and push start.
Buñuelos - Fried Cheese Puffs
1 lb. white cheese or small curd cottage cheese (quesito)
1 1/2 cups cornstarch
2 eggs, beaten
2 tablespoons brown sugar
1/2-teaspoon salt
Grind the cheese. Mix the cheese with the cornstarch, eggs, brown sugar and salt. Roll into balls the size of golf balls and drop into medium-hot vegetable oil and fry slowly. After a few minutes increase temperature and fry until they are golden. Remove and place on absorbent paper. Makes 15 buñuelos.
Char grilled Vegetable & Cheese Frittata
1 small red pepper, deseeded and cut into strips
1 small green pepper, deseeded and cut into strips
1 red onion, thickly sliced
1 medium courgette, sliced on diagonal
2 tablespoons olive oil
8 eggs
8oz Butlers Farmhouse Tasty Lancashire Cheese, grated
1 tablespoon chopped basil
Salt and freshly ground black pepper
Brush vegetables with 1 tablespoon of the olive oil. Place under a pre-heated medium grill and cook for 10 - 12 minutes. Turn once during cooking until vegetables are beginning to darken on the edges. Beat the eggs with a fork and add the cheese, basil and a generous amount of seasoning. Heat the remaining oil in a large frying pan. Add the grilled vegetables and pour over the beaten egg mixture ensuring the ingredients are evenly distributed. Gently cook until the underside is set and golden brown. Place the frying pan under a pre-heated hot grill and cook until the surface is set and golden. Serve immediately with a crisp salad and hot crusty bread. Serves 4.
Cheddar Apple Pitas
1 cup diced Cheddar Cheese
1 cup unpeeled diced apple
1/2 cup thinly sliced celery
1/4 cup chopped nuts
3 tbsp mayonnaise
1 tbsp lemon juice
2 tsp sugar
Salt & pepper 3 pita bread rounds
Leaf lettuce
In a medium bowl, combine cheese, apple, celery and nuts. In a small bowl, stir together mayonnaise, lemon juice and sugar. Pour over cheese mixture; toss lightly to coat. Add salt and pepper to taste. Cut into each pita bread round in half and line with leaf lettuce. Divide cheese mixture evenly among pita pockets.
Cheese & Fruitwich
1/2 cup cream cheese, room temp
1/8 cup peanuts, unsalted, chopped
1/2 apple, cored, sliced, peeled
2 drops lemon juice
2 date-nut bread slices
Combine the cream cheese and nuts in a bowl. Sprinkle the apple slices with the lemon juice to keep them from turning brown. Take a slice of bread, spread with cheese and nut mixture and cover with apple slices. Use another slice of bread to top the sandwich and wrap well. Yield: 1 serving.
Cheesy Treasure Muffins
1 egg, beaten
1 cup milk
1/4 cup butter, melted
1/4 cup sugar
2 cups self-rising cake flour, unsifted
1/4 cup green onions, chopped
4 slices bacon, cooked, drained and crumbled
1/2 cup Swiss cheese, shredded
1/2 cup sharp Cheddar cheese, shredded
8 ounces Jalapeño Jack or Colby Jack cheese, cut into 3/4-inch cubes
Preheat oven to 400°F. In a bowl, mix egg, milk, butter and sugar. Slowly stir in flour. Fold in the green onions, bacon, Swiss cheese and 1/4 cup Cheddar cheese. Fill muffin compartments 1/3 full (if necessary, grease before filling). Place one cube of Jalapeño Jack cheese in middle of each muffin compartment on top of batter. Continue to fill muffin compartments with batter until 2/3 full. Top with remaining Cheddar cheese. Bake muffins for 15 to 20 minutes or until golden brown. Let stand 5 minutes before removing from pan. Serve warm.
Jack Cheese And Crab Tartlets
1/4 cup all-purpose flour for dusting
2 8-inch by 12-inch sheets of puff pastry, thawed to room temperature
1-1/2 cups grated Monterey Jack cheese
1 pound fresh, lump crabmeat
1/3 cup butter, melted
2 tablespoons mayonnaise
3/4 cup half-and-half
1/2 teaspoon garlic oil
1/2 teaspoon ground horseradish
1 shallot, chopped fine
1 tablespoon finely chopped parsley
1 pinch nutmeg
Salt and pepper to taste
Optional serving suggestion: Sautéed wild mushrooms
Preheat oven to 400° F.
To make puff pastry: Dust flour over a work surface. Place puff pastry sheets on floured surface. Using a rolling pin, stretch the pastry sheets 2 inches each side. Gather four (six-inch) tartlet shell containers. Using the bottom of one of the containers as a guide cut out two circles per pastry sheet (extend the cut border two inches, making an eight inch diameter). Place the cut pastry pieces inside each shell container, molding so the pastry fits just right. With a fork, dock the bottom of each shell container.
To make the filling: In a bowl combine all other ingredients, incorporating well. Fill each shell with 1/2 cup of the mixture, and then top each shell with any remaining filling. Bake in oven for 35 minutes or until a toothpick comes out clean upon insertion. Tartlets can be served over a sauté of wild mushrooms.
Lancashire and Mushroom Croissant
1oz butter
8oz chestnut mushrooms, sliced
1 clove garlic, chopped
2 tbsp snipped fresh chives
6oz Lancashire cheese, crumbled
4 croissants, halved but still joined to accompany, grilled tomatoes
Preheat the oven to 400° F. Heat the butter in frying pan, add the mushrooms and garlic and cook over a high heat for 5 mins or until the juices have run out and then nearly all evaporated. Stir in the chives and half the Lancashire. Season with salt and pepper. Divide the mixture into four and spoon into the croissants. Place on a baking sheet, scatter over the remaining cheese and bake for 5 mins or until the croissants are golden and crisp. Cooks tip you can use any mushrooms you like in this recipe, but chestnut mushrooms have the most flavor. You can try substituting the Lancashire for any other crumbly British cheese such as Caerphilly, Cheshire or Wensleydale, or for a change, try Cornish Yarg.
Savory Cheddar Polenta with Maple Poached Apples and Mascarpone
2 medium-sized firm, crisp apples (Jonathan, gala or similar cooking apples)
2 cups apple juice/p>
3/4 cup maple syrup
1/2 lemon, thinly sliced
1/2 cinnamon stick
5 whole allspice
2 tablespoons brandy (optional)
4 cups water
1 teaspoon salt
1 cup dried polenta or yellow cornmeal
1 cup (4 ounces) sharp Cheddar cheese, grated
1-1/2 teaspoons fresh thyme, chopped or 3/4 teaspoon dried
4 large tablespoons mascarpone cheese, separated
1/4 cup toasted walnut or pecan pieces for garnish
Brown sugar
Peel, halve and core the apples. Place them in a 2-quart saucepan with the apple juice, maple syrup, lemon slices, cinnamon stick, allspice and brandy. Simmer over medium heat for about 15 minutes until sauce thickens slightly and apples are tender. Remove from heat, but keep warm while making the polenta.
To make the polenta, bring the water to a boil and add the salt. Gradually whisk in the polenta, stirring constantly and cook over medium low heat for about 25 minutes or until velvety, but not too thick. Stir in the Cheddar cheese and the thyme. Add salt to taste.
Spoon 1/4 of the polenta into a shallow bowl and top with half a poached apple and some of the poaching juices. Top with a generous tablespoon of mascarpone cheese, and garnish with toasted nuts and extra grated Cheddar if desired. For a sweeter taste, sprinkle brown sugar or drizzle maple syrup on top. Makes 4 servings. Note: Apples can be poached the day before and warmed just before serving.
Spanakopitta
2 pounds fresh spinach
2 tablespoons unsalted butter
1 bunch (about 8 medium) scallions, both green and white parts, minced
1 bunch parsley, minced
1 bunch fresh dill, minced
3/4 pound Feta, crumbled
1/4 teaspoon freshly ground pepper
3 large eggs, beaten
1/4 pound melted butter
8 sheets (12 x 17 inches, about 6 ounces) filo dough
Heat the oven to 350° F. Remove and discard the thick stems from the spinach. Wash the leaves well to remove all the sand. Dry them fairly well, then place in a large non-aluminum pot. Cook over medium heat, mixing often, until barely wilted, 4 to 5 minutes. Put the spinach in a strainer and press firmly with a spoon to eliminate as much liquid as possible. Roughly chop the leaves and place them in a large mixing bowl. Set aside.
Heat the 2 tablespoons butter in a small skillet. Add the scallions and cook over medium heat until soft but not brown, about 2 minutes. Add to the spinach along with the parsley, dill, Feta, pepper and eggs. Stir just to mix. Brush a 12 x 8-inch baking dish (preferably a pretty one you can take to the table) with some of the melted butter.
While working with the filo, always keep the extra sheets covered with a cloth so they don't dry out from exposure to the air. The sheets will have to be folded in half. You can cut them, but it isn't necessary. Place a half sheet on the bottom of the dish, brush it with butter and fold the second half over. Brush that half with butter. As you work, do not trim the filo, but try to vary the positions so it hangs somewhat evenly over all the edges. Place three more sheets of filo in the baking dish, spreading butter between the layers, so you now have eight layers of filo. Spread the spinach/Feta mixture over the filo. Top with the remaining filo in the same way, brushing butter between the layers. Push all the excess filo down in around the edges and brush the top heavily with the remaining butter.
Bake in the preheated oven for 45 minutes, or until golden brown and crisp. Serve hot or at room temperature. Serves 4 to 6 as a main course, 8 to 10 as a side dish.
Spinach Cheese Puffs
8 oz frozen puff pastry, defrosted
1lb 2oz frozen leaf spinach
3oz feta cheese, cut into tiny dice
1 clove crushed garlic
Salt and freshly ground black pepperd
Nutmeg
2 tbsps sesame seeds
Preheat an oven to 425° F. Roll out the pastry thinly and cut out 12 circles to line a tray of patty tins. Collect the pastry trimmings, stacking them up to maintain the layers of the pastry and re-roll. Cut out 12 smaller circles to use as pastry tops.
Add the spinach to 1 inch of boiling water in a pan. Return to the boil and simmer for 3 minutes, then drain thoroughly and chop with a metal spoon. Season well with salt, pepper and nutmeg, and then add the sesame seeds, garlic and cheese.
Fill the lined patty tins with the spinach mixture then cover with the pastry lids, pressing them down firmly. Bake for 15-18 minutes, and then scatter the pies with a few extra sesame seeds and cool on a wire rack.
Cheese Dumplings
1-1/2 cups cake flour or all-purpose flour
1-1/2 teaspoons double-acting baking powder
1/4 teaspoon salt
1/4 cup (2 ounces) mild Cheddar, finely shredded
1 egg
1/4 cup milk
Combine flour, baking powder, salt and Cheddar cheese in large bowl. Mix together egg and milk in measuring cup. Slowly pour liquid into flour while stirring batter. Batter should be stiff and sticky.
Cooking dumplings: Dip teaspoon into stew liquid to keep batter from sticking to spoon. Scoop a small amount of batter into teaspoon and drop onto top of stew. Allow room for dumplings to expand. Cover to cook. Makes 15 servings.
Tomato and Mozzarella Salad
2 large ripe tomatoes, cored
1/2 pound Mozzarella, the freshest available (Mozzarella de Bufalo would be ideal)
1/2 cup packed fresh basil leaves
2 teaspoons grainy mustard
2 teaspoons red wine vinegar
1/4 teaspoon kosher salt
1/8 teaspoon freshly ground pepper
3 tablespoons fruity virgin olive oil
Cut the tomatoes and Mozzarella into neat 1/4-inch slices. Arrange them alternating and overlapping on a serving plate or four individual plates.
Place the basil in a food processor and chop into small pieces. Add the mustard, vinegar, salt and pepper. Process 15 seconds longer, then pour in the oil. Process another 30 seconds. Spoon the vinaigrette in a line across the tomatoes and cheese. Serves 4 as a first course.
Wild Mushroom Torta With White Cheddar
6 cups sliced wild mushrooms (Oyster, Shiitake, Cremini, Portobello, etc.)
1 teaspoon minced garlic
2 tablespoons butter
salt & pepper
1 package (11 oz.) refrigerated French bread
1/4-cup pesto sauce
3 oz. white Cheddar cheese (crumbled)
Sauté mushrooms and garlic with butter in large skillet until tender; season with salt and pepper. Shape dough into a round; press onto bottom and side of buttered 10-inch quiche dish and spread with pesto. Sprinkle with half the cheese, top with mushrooms and add remaining cheese. Bake at 350 degrees F until browned, 35- 40 minutes.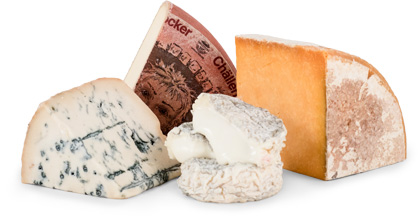 Experience International Variety
You might receive a Gaperon, originating in France during the 14th Century, an
authentic Lancashire by Ruth Kirkham, and an Italian Taleggio matured in the
caves of Valsassina…all in one shipment!
DISCOVER OUR TWO CLUBS
Responsive Customer Service
Our friendly and knowledgeable customer service team will help you with any questions. You may also place orders over the phone.
Mon-Fri, 7am - 4pm Pacific
Rated Customer Service
Assuring satisfaction to over 1,000,000 CUSTOMERS since 1994 has earned us an
rating from the BBB. A BBB Accredited business since 10/05/2005
View Our Profile
100% Satisfaction Guarantee
Our 100% satisfaction guarantee ensures that every item you purchase at Gourmet Cheese of the Month Club meets your high standards or we will replace it or refund your purchase.