British Mature Cheddar Cheese and Broccoli Roulade with Seafood
Knob of butter, melted
5 oz Mature Cheddar
14¾ oz can red salmon
milk
1 oz clover or butter
8 oz broccoli florets, lightly cooked
1 oz flour
4 eggs separated
5 tsp single cream
Salt and pepper
4 oz peeled cooked prawns
Line a Swiss roll tin with non-stick parchment paper, brush with melted butter then scatter over 1oz of the British Mature Cheddar. Heat the oven to 400F. Drain the broccoli, the chop finely. Put into a bowl with the egg yolks and remaining cheese, season and mix well. Whisk the egg whites until stiff, mix in 2 tablespoons, and then carefully fold in the rest. Turn into the tin, spread evenly, and then bake for 12 minutes until golden and firm. Meanwhile, drain the liquid from the salmon and add milk until you have 8oz. Discard the skin and bones from the fish and break into small chunks. Put the butter, flour and liquid into a pan, heat, whisking all the time until thickened and smooth. Add the cream and season, and then add the salmon and prawns and heat through. Turn the roulade onto a sheet of greaseproof paper, spread the filling over two-thirds of the roulade, along it's length, then roll up Swiss roll style. Serve warm or cold cut into slices. Serves 4.
Cheddar And Pepper Soufflé
5 ounces grated Cheddar cheese
8 ounces cream cheese
4 ounces pepper jelly
2 eggs
1-teaspoon butter
1/4-cup breadcrumbs
Crackers or toast points
Preheat oven to 350° F. Combine Cheddar cheese, cream cheese and 2 ounces of pepper jelly in a bowl, and beat on high for 3 minutes. Add eggs one at a time and continue beating on high for 1 minute after each egg. Butter a 9-inch spring form pan and dust all sides with breadcrumbs. Pour mixture into pan and bake approximately 50 minutes. Remove soufflé from oven and cool on rack. Top with remaining pepper jelly. Serve as a centerpiece surrounded with favorite cracker or toast points. Makes 8 servings.
Cheddar, Leek and Mustard Pie
4oz butter
1 1/2 lb leeks, sliced
2 tbsp crème fraiche
1/2 tsp freshly grated nutmeg
1 large egg
3 tbsp wholegrain mustard
6 oz plain flour
6 oz mature Cheddar cheese, grated
Preheat the oven to 450° F. In a large pan, melt 1oz butter, add the leeks and cook for 5 mins. Remove from heat and stir in the crème fraiche, mustard and egg. Season and set aside to cool.
Place the flour in large bowl with a pinch of salt; rub in the butter until the mixture resembles crumbs. This can be done in a food processor if liked. Stir in 2 oz of the cheese and 3-4 tbsp cold water, and then bind together to make firm dough.
Roll out the pastry on a lightly floured surface to a rough 8in circle. Transfer to a baking sheet.
Stir half the cheese into the leek mixture then spoon this into the center of the pastry, leaving a 3cm border. Fold the edges up around the edges of the filling and pinch together. Sprinkle over the remaining cheese and bake for 15-20 mins or until golden. Serve with red onion and tomato salad Cooks tip. The cheese pastry in this easy pie is lovely and crisp and tangy with cheese. But if you prefer you can use a pack of ready rolled short crust pastry instead. Simply roll out and use as directed.
Cheddary Sheppard's Pie
4 small potatoes, peeled
2 cups frozen or canned corn kernels, drained (optional)
4 eggs
3/4 cup milk
1 tbsp vegetable oil
1 medium onion, chopped
1 clove garlic, minced
3/4 lb medium-lean ground beef
Salt, pepper and paprika, to taste
1 cup shredded Medium Cheddar cheese
Cut potatoes into 1/2-inch pieces and cook in salted boiling water until tender, about 10 minutes. Add corn 3 minutes before the end of cooking. Drain. Beat together eggs and milk just until blended. Season to taste with salt and pepper. Heat oil in medium non-stick skillet over medium heat. Add onion and garlic; sauté for 3 minutes. Add ground beef and cook until browned, about 5 minutes. Drain fat. Season with salt and pepper.
Spoon meat into 8-inch square baking dish. Place vegetables on top. Wipe skillet. Pour egg and milk mixture into skillet. Add 1/2-cup cheese. Cook over medium-low heat, stirring constantly, until mixture is medium thick. Immediately pour over vegetables. Sprinkle with remaining cheese and paprika. Bake in a 350° F oven for 10 to 15 minutes or until eggs are set. Makes 4 or 5 servings. Serve with a whole-wheat dinner roll, oatmeal cookies and milk.
Colby Cheese And Spinach Quiche
6 eggs, beaten
1/4 cup heavy cream
1 bunch green onions, chopped
4 tablespoons finely chopped parsley
1-1/2 tablespoons fresh chopped dill
Salt and pepper to taste
4 10-ounce packages chopped spinach, cooked, excess water drained
1-1/2 pounds grated Colby cheese
2 tablespoons butter
Optional serving suggestions:
Field greens (arugula or mesculin)
Toasted pine nuts
Olive oil
Preheat oven to 350° F. In a large mixing bowl, whisk eggs and heavy cream for 2 minutes until light and fluffy. Add onions, parsley, dill, salt and pepper. Fold in spinach and Colby cheese. Heat a 10-inch, cast-iron skillet; melt butter in skillet. Lower heat to medium-low, pour in egg mixture. With a wooden spoon, stir bottom of skillet, loosening cooked egg. Take skillet off heat and place in oven; bake for 45 minutes or until the quiche does not move when the skillet is shaken. Serve warm atop field greens, such as arugula or mesculin greens. Or, top with toasted pine nuts and drizzle with olive oil. Makes 8 servings.
Creamy Lancashire and Chicken Wrap
2 tortilla wraps
handful of salad leaves
2 tsp chutney
3 tbsp mayonnaise
1 spring onion, chopped
100 g creamy Lancashire, crumbled
1 skinless boneless cooked chicken breast, cut into strips
Set the wraps side by side on a work surface. Scatter the salad and spring onion down the center of each wrap and dot with chutney and mayonnaise. Add the cheese and chicken. Roll each wrap tightly and cut on the diagonal. Serves 2.
Deviled Ham Quiche
Pastry for two 9-inch one crust pies
3 cans (4 1/2 oz each) deviled ham
1/4 cup plus 2 tablespoons dry breadcrumbs
10 oz. pkg.Queso Blanco con Frutas, crumbled
2/3 cups minced onion
8 eggs
3 cups Crema Mexicana or whipping cream
1 1/2 teaspoons salt
1/2 teaspoon sugar
1/4 teaspoon cayenne red pepper
Heat over to 425° F. Prepare Pastry. Mix ham, breadcrumbs, crumbled Queso Blanco con Frutas and onion. Spread mixture in 2 pastry lined pie pans. Beat eggs slightly. Beat in remaining ingredients. Pour into pie pans. Bake 15 minutes.
Reduce oven temperature to 300 degrees F. and bake 30 minutes longer or until knife inserted 1 inch from edge comes out clean. Let pies stand 15 minutes before cutting. Serve in wedges.12 servings (2 pies).
Cheddar Ghoul-Ash
2 tablespoons butter, divided
1 small onion, chopped
2-4 cloves garlic, sliced and divided
2 pounds boneless chuck roast, cubed in 1-inch pieces
1 pound pork tenderloin, cubed in 1-inch pieces
2 pounds plum tomatoes, coarsely chopped
1 can (6 ounces) tomato paste
1 cup carrots, sliced
1 cup zucchini, sliced
1 cup red wine (optional)
2 cups water
1/8 teaspoon cinnamon
1/8 teaspoon allspice
1/8 teaspoon ground coriander seed
1/4 teaspoon salt
2 cups medium Cheddar, shredded
Melt butter in a pan. Then, add onions and garlic to the pan and sauté until transparent. Trim any excess fat from chuck roast and pork tenderloin. Brown meat in butter with onions and garlic. Do not overcrowd the meat in the bottom of the pan. If necessary, brown meat in batches. When meat is cooked, remove from pan and set aside.
Add second tablespoon of butter to pan and sauté tomatoes and remaining garlic. Cook tomatoes until soft. Add tomato paste, carrots, zucchini, meat, red wine, water and spices. Cover and let simmer for 1-1/2 hours or until meat is tender. Stir in shredded Cheddar cheese just prior to serving. Makes 6 servings.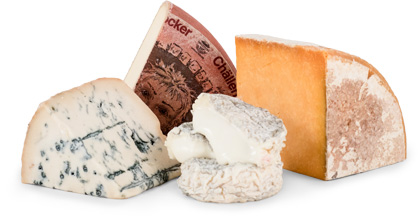 Experience International Variety
You might receive a Gaperon, originating in France during the 14th Century, an
authentic Lancashire by Ruth Kirkham, and an Italian Taleggio matured in the
caves of Valsassina…all in one shipment!
DISCOVER OUR TWO CLUBS
Responsive Customer Service
Our friendly and knowledgeable customer service team will help you with any questions. You may also place orders over the phone.
Mon-Fri, 7am - 5pm Pacific
Sat-Sun, 8am - 12pm Pacific
Rated Customer Service
Assuring satisfaction to over 2,000,000 CUSTOMERS since 1994 has earned us an
rating from the BBB. A BBB Accredited business since 10/05/2005
View Our Profile
100% Satisfaction Guarantee
Our 100% satisfaction guarantee ensures that every item you purchase at Gourmet Cheese of the Month Club meets your high standards or we will replace it or refund your purchase.