Alice Waters' Three-Cheese Pasta
Alice Waters, owner of Chez Panisse, the wonderfully innovative restaurant in Berkeley known for its use of fine local produce, created this easy, elegant pasta. Very rich, it is perfect as a first course followed by roasted meat or fish with a cream less sauce. The exact proportions of Gorgonzola and Fontina, she explains, vary with the strength of the Gorgonzola. Look for one that is soft, creamy and full flavored.
1/2-pound fresh linguine
1/4-pound Gorgonzola, cut into cubes
2 ounces Fontina, cut into cubes
2/3-cup heavy cream
2 ounces freshly grated Parmesan
Freshly ground black pepper
Bring a large pot of lightly salted water to the boil. Add the linguine and cook until barely done (al dente), about 3 minutes if very fresh, longer if dry. Drain well.
In a large pot, heat the Gorgonzola and Fontina with the cream over moderate heat, stirring often until the mixture is smooth. Add the drained linguine and stir to coat. The sauce will be somewhat runny; it will thicken by itself as it cools down at the table. Put the pasta in a wide bowl. Sprinkle the grated Parmesan, a healthy grinding of black pepper and the toasted nuts on top. Serve immediately.
Linguine with Goat Cheese and Walnuts
2 tablespoons unsalted butter
2 tablespoons olive oil
3 large garlic cloves, minced
1 1/2 cups chopped walnuts
1 1/2 cups chopped walnuts
1/2 pound soft, flavorful goat cheese, such as Bucheron or Dolmen
1 cup light or heavy cream, depending on how rich you like the dish
1/4 cup freshly grated Parmesan, plus cheese for the table
1 pound linguine, preferably fresh
Freshly ground black pepper
Salt
Heat the butter and oil in a heavy skillet over moderate heat. Add the garlic and cook until soft, about 1 minute. Add the walnuts and cook, stirring, until they are lightly brown and crisp. Set aside off the heat.
Make small piles of basil leaves, roll them up and cut into thin strips. When all the basil has been cut, add it to the slightly cooled walnut mixture. Put the goat cheese in a bowl and mash it with a fork until fairly smooth. Add the cream and Parmesan and stir until smooth.
Bring a large pot of salted water to the boil. Add the pasta and cook until done but still firm to the bite, al dente. Drain well, reserving about 1 cup cooking liquid. Put the pasta back in the pot with the cheese mixture and 1/2 cup cooking liquid. Stir to coat evenly, then add the nut and basil mixture. If the sauce seems too thick, thin it with a little more reserved liquid. Stir to coat evenly, then add the nut and basil mixture. If the sauce seems too thick, thin it with a little more reserved liquid. Add pepper and salt, if necessary, to taste. Serve immediately with freshly grated Parmesan cheese. Serves 8 as a first course.
Triple Cheese Baked Spaghetti
6 ounces dry spaghetti pasta
3/4 cup low-fat ricotta cheese
1/2 cup (2 ounces) finely grated Romano cheese
2 cups (16 ounce jar) prepared spaghetti sauce
1 teaspoon dry basilt
2 teaspoons dry oregano
1/4 teaspoon black pepper
4 ounce part-skim mozzarella cheese, shredded
Cook pasta according to package directions. Drain completely. Preheat oven to 350° F. In a large bowl, combine ricotta and Romano cheeses, 1-cup spaghetti sauce, basil, oregano, and pepper. Set aside remaining 1 cup spaghetti sauce. Mix cooked pasta with cheese mixture, stirring until pasta is distributed. Place in a casserole dish coated with vegetable oil cooking spray.
Top pasta and cheese mixture with shredded mozzarella cheese. Cover with lid or foil and bake 20 minutes. Remove cover; continue baking until cheese bubbles. Remove from oven and let stand for three minutes. Cut into four large or six smaller servings. Top each portion with remaining spaghetti sauce before serving. Serves: 4.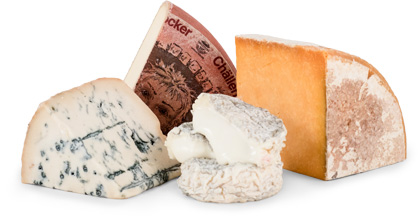 Experience International Variety
You might receive a Gaperon, originating in France during the 14th Century, an
authentic Lancashire by Ruth Kirkham, and an Italian Taleggio matured in the
caves of Valsassina…all in one shipment!
DISCOVER OUR TWO CLUBS
Responsive Customer Service
Our friendly and knowledgeable customer service team will help you with any questions. You may also place orders over the phone.
Mon-Fri, 7am - 4pm Pacific
Rated Customer Service
Assuring satisfaction to over 1,000,000 CUSTOMERS since 1994 has earned us an
rating from the BBB. A BBB Accredited business since 10/05/2005
View Our Profile
100% Satisfaction Guarantee
Our 100% satisfaction guarantee ensures that every item you purchase at Gourmet Cheese of the Month Club meets your high standards or we will replace it or refund your purchase.