Blue Cheese And Pear Crêpes
1 cup self-rising flour
4 eggs
1/2 cup milk
1/2 cup + 1 tablespoon water
2 tablespoons butter, melted
2 pears, cored and cut into thin slices
1/4 cup blue cheese, crumbled
1/2 cup cornflake crumbs
1/3 cup Parmesan cheese, grated
4 tablespoons butter
Blend flour, two of the eggs, milk, water and melted butter in a blender until smooth. Refrigerate at least 30 minutes. Heat a lightly buttered 6-8 inch crêpe pan over medium heat. Pour or spoon 3-4 tablespoons of batter in pan and spread out to form a round crêpe. Brown lightly on each side. Watch closely to avoid overcooking. Set aside. Repeat with remaining batter.
Place 3-4 slices of pear and one teaspoon of crumbled blue cheese on each crêpe. Shape each crêpe into a triangle by folding it over twice. Set aside filled crêpes. Beat the remaining eggs. In a separate bowl, combine the cornflake crumbs and Parmesan cheese. Carefully brush both sides of each triangle with the beaten egg. Coat with Parmesan cheese mixture. Melt remaining butter in a large skillet and fry carefully until golden brown on each side. Sprinkle with additional blue cheese if desired, and serve warm. Makes 12 crêpes.
Cheesy Onion and Pancetta Bake
2 tbsp olive oil
1 lb red onions, peeled and quartered
8 shallots, peeled
8 button onions, peeled
2 tbsp balsamic vinegar
1 tsp brown sugar
1 tbsp chopped thyme
Salt and freshly ground black pepper
3 plum tomatoes, sliced
70 g Pancetta, cut into strips
6 basil leaves, torn into shreds
6 oz Double Gloucester Cheese, grated
Heat the oil in a large frying pan and add all the onions and shallots and cook for 12 - 15 minutes until they start to soften. Blend together the vinegar, sugar, thyme and seasoning and pour over the onions mixing well, then transfer to an oven proof dish. Arrange the sliced tomatoes and pancetta on top Sprinkle over basil and cheese. Bake in a pre-heated oven 375 degrees F. for 25 - 30 minutes until golden and bubbling. Serves 4.
Blue Cheese And Portobello Mushroom Ragôut
2 teaspoons butter
3 shallots, finely chopped
1/4 cup dry sherry (optional)
1/4 cup chicken broth
1/4 teaspoon salt
1/4 teaspoon dried fennel
Dash of ground white pepper
1 cup (1 large) Portobello mushroom, thinly sliced
1/4-1/2 cup (1-2 ounces) blue cheese
2 cups grilled or roasted harvest vegetables* (red peppers, squash, asparagus, etc.) or pasta
Freshly chopped parsley (optional)
Add butter to 12-inch non-stick skillet. Sauté shallots over low heat until transparent, approximately 10-15 minutes. Add sherry, chicken broth, salt, fennel and pepper. Simmer 2-3 minutes to allow flavors to blend. Add mushrooms. Cook until liquid is absorbed.
Remove pan from heat. Crumble blue cheese over mixture and lightly toss.
Spread mixture over vegetables or pasta. Garnish dish with chopped parsley.
Note: To roast vegetables, cut into equal sizes. Spread out vegetables on pan in single layer, lightly drizzle with olive or canola oil and sprinkle with salt. Roast under broiler 10-15 minutes until blackened spots appear on vegetables. Makes 2 servings.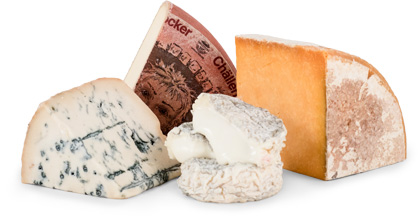 Experience International Variety
You might receive a Gaperon, originating in France during the 14th Century, an
authentic Lancashire by Ruth Kirkham, and an Italian Taleggio matured in the
caves of Valsassina…all in one shipment!
DISCOVER OUR TWO CLUBS
Responsive Customer Service
Our friendly and knowledgeable customer service team will help you with any questions. You may also place orders over the phone.
Mon-Fri, 7am - 5pm Pacific
Sat-Sun, 8am - 12pm Pacific
Rated Customer Service
Assuring satisfaction to over 2,000,000 CUSTOMERS since 1994 has earned us an
rating from the BBB. A BBB Accredited business since 10/05/2005
View Our Profile
100% Satisfaction Guarantee
Our 100% satisfaction guarantee ensures that every item you purchase at Gourmet Cheese of the Month Club meets your high standards or we will replace it or refund your purchase.