Raschera is a natural-rind, semi-firm, pressed-curd cow's milk cheese whose namesake is Lake Raschera, located in the Italian province of Cuneo. Only a very small quantity of this cheese is exported from Italy, so we are very fortunate to have acquired this cheese for our club this month by way of the Cooperativa Agricola Frabosa Soprana, a township in Cuneo where this cheese is made. The cooked curds for this cheese are pressed into square wooden molds, which produces a square-shaped cheese rather than a traditional, round cheese, as the square shape made it easier for the cheeses to be transported on the backs of mules. After approximately 60 days of aging, this cheese is released for our enjoyment.
The thin and springy rind surrounds a buttery-yellow colored paste with small 'eyes,' or holes, in its otherwise creamy texture. The rusticity and grassiness of the milk shines through in its nutty and salty flavor profile. Because Cuneo is located in the Piedmont region of Italy, one of Italy's most celebrated wine regions, Raschera pairs with Piedmont whites, such as Arneis, Cortese (Gavi), and Moscato (d'Asti), as well as the region's reds like Barbera, Dolcetto, Malvasia, and Nebbiolo (Barbaresco and Barolo).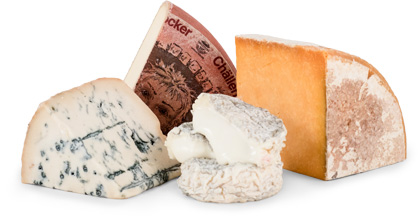 Experience International Variety
You might receive a Gaperon, originating in France during the 14th Century, an
authentic Lancashire by Ruth Kirkham, and an Italian Taleggio matured in the
caves of Valsassina…all in one shipment!
DISCOVER OUR TWO CLUBS