Women cheesemakers like Ana Isabel Rosado are rare in Spain, but that's not all that's rare about Andazul. It's the first blue cheese made from goat's milk produced in Andalucía. Ana's passion for crafting artisan cheeses was born through her husband's family which has deep roots in cheesemaking as the family behind Montealva cheeses. As goat's milk is abundant in the mountains around Cádiz, it was natural to focus on goat milk cheeses, but a bit of a leap of faith to produce a goat's milk blue.
With heavy emphasis on quality, this cheese is made in very small batches. Ana crafts her award-winning blue from milk sourced from local herders, many of whom bring her their wares in large pitchers as they did in days long past.
Made only from the milk of endangered Payoya goats indigenous to where the cheese is made, we fell in love with this cheese and its dense, fudgy creaminess and savory flavor. The rind is rubbed with extra virgin olive oil which lends to its buttery, savory flavors. This approachable cheese also has a touch of mineral tanginess to it. A good sherry will pair beautifully with Andazul. Honey and walnuts will also compliment it well. For something different, try pairing with a dark chocolate or melt it on top of roasted potatoes.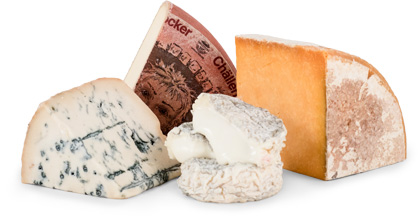 Experience International Variety
You might receive a Gaperon, originating in France during the 14th Century, an
authentic Lancashire by Ruth Kirkham, and an Italian Taleggio matured in the
caves of Valsassina…all in one shipment!
DISCOVER OUR TWO CLUBS